Series:
Dark-Hunter, Book 2
Genre:
Paranormal
Copyright:
2004
Pages:
336
Rating:
3.5 Crowns
Synopsis:
Dear Reader, Have you ever wanted to know what it's like to be immortal? To journey through the night stalking the evil that preys on humans? To have unlimited wealth, unlimited power?
That is my existence, and it is dark and dangerous. I play hero to thousands, but am known to none. And I love every minute of it. Or so I thought until one night when I woke up handcuffed to my worst nightmare: a conservative woman in a button-down shirt. Or in Amanda's case, buttoned all the way up to her chin. She's smart, sexy, witty, and wants nothing to do with the paranormal---in other words, me.
My attraction to Amanda Devereaux goes against everything I stand for. Not to mention the last time I fell in love it cost me not only my human life, but also my very soul. Yet every time I look at her, I find myself wanting to try again. Wanting to believe that love and loyalty do exist. Even more disturbing, I find myself wondering if there's any way a woman like Amanda can love a man whose battle scars run deep, and whose heart was damaged by a betrayal so savage that he's not sure it will ever beat again. Kyrian of Thrace
Review:
Night Pleasures is a good book to read if you're just starting out with the paranormal genre. Simple, quick and pretty quirky.
Amanda Deveraux is an accountant in a family of witches, vampire hunters and psychics. She likes her life normal and supernatural-free. Until she gets mistaken for her twin vamp slaying sister and gets handcuffed to a gorgeous blond vampire. Kyrian of Thrace was a fearsome general who fought the Roman empire. Now he's a Dark Hunter - a soulless creature of the night fighting the soul sucking Daimons who prey on humanity. Betrayed by the woman he loved, he's lived centuries with the pain of the betrayal and execution at the hands of the Romans, with only his Dark Hunter duties as his guide.
These two individuals are as far apart as it can get, and yet through Kenyon's quirky and sometimes cheesy lines, you'll see them fall for each other. Now there's a super Daimon on the loose and he has it out for both of em. Kyrian has to keep Amanda safe while trying not to fall for her at the same time.
I loved the lil bits of history in this book. Although the second book in the series, this is actually where the series begins. So if you haven't read book 1, Fantasy Lover, it won't really matter.
This is a good book to pass the time. I didn't really connect with the characters since a lot of their situations were a bit hard to be believable, not to mention the monologues are a bit sappy. The rest of the supporting cast is pretty dramatic and entertaining tho.
There's some pretty good scenes in the book that you'll like, like Amanda's attempts to erase the memories of Kyrian's torture and execution. There's also a sense of bonding among the Dark Hunter's that Kenyon manages to push through, which is why i'll probably pick up the next book to see where this series goes.
You can read the review of the first book, Fantasy Lover
here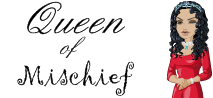 Visit Karyn at her blog
Slip Carefully