Genre: YA Paranormal Romance
Copyright: 2008
Pages: 384
Rating: 5/5

Synopsis: The undead can really screw up your senior year.

Marrying a vampire definitely doesn't fit into Jessica Packwood's senior year "get-a-life" plan. But then a bizarre (and incredibly hot) new exchange student named Lucius Vladescu shows up, claiming that Jessica is a Romanian vampire princess by birth - and he's her long-lost fiancé. Armed with newfound confidence and a copy of Growing Up Undead: A Teen Vampire's Guide to Dating, Health, and Emotions, Jessica makes a dramatic transition from average American teenager to glam European vampire princess.

But when a devious cheerleader sets her sights on Lucius, Jess finds herself fighting to win back her wayward prince, stop a global vampire war - and save Lucius's soul from eternal destruction.

Review: JESSICA'S GUIDE TO DATING ON THE DARK SIDE is one of the best YA books I've read in a long time. It made me laugh out loud since the first page, and I'm not sure if it's because I've been looking forward to reading it since last year. I found it wholly addictive and pleasureable. If a book could make you feel pleasantly full, this is it.

The range of emotions that was portrayed was outstanding. JESSICA'S GUIDE TO DATING ON THE DARK SIDE showed that there were more things to vampires than the blood. And if you took out all the vampiric elements from the story, there's a love story that can stand by itself. It's not just a story about their love, but a story about the awakening of a princess.

The supporting cast was believable, if a bit two dimensional in some cases. I don't think that's a fault, because if those characters came to life, they'd really be two dimensional. I'd love to read more of how Lucius and Jessica rule their clans, and I'm really excited to find out more in the sequel that Beth is writing. I hope it comes to fruition! The tone will definitely be different than JESSICA'S GUIDE TO DATING ON THE DARK SIDE and attached to my excitement is the fear that the sequel might not live up to my expectations, but I'm looking forward to it.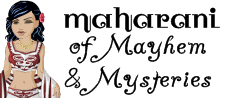 Visit Liyana at her blog Liyanaland.