Genre:
Adult Fantasy
Pages:
360
Copyright:
2007
Rating:
3.5/5 Crowns
Synopsis:
Jessie Ferguson's life is going nowhere. She's tried drugs, alcohol, even sex to fill the void that has no name, but nothing seems to quench that dull ache that visits her nightly.
When she moves into a restored Victorian Bed and Breakfast, all of that changes the instant she hears a call from the past.
A call from her past.
A past life two thousand years ago from a place she knows nothing of, from a woman she's seen only in her dreams. It is a past that needs her, a past that has burst through the boundaries of time in order to ask for her help.
If you believe in soul mates, if you know you've had a past life, if you've ever wondered who you might have been long ago and who you might have loved, then join Jessie in the first of a series of adventures that takes her
Across Time.
Review:
Jessie Ferguson is what some people might consider a lost soul - to fill the void in her life she has turned to drugs, alcohol, and sex but nothing seems to ease the aching she feels deep within her soul. After all she has put her parents through, they feel the only alternative they have is to start over in a new town. Maybe a fresh start will be enough to help Jessie to shed the negativity that seems to surround her and give her a chance to lead a more normal life.
To Jessie, nothing sounds worse than leaving sunny California to go live in dreary, foggy Oregon. Who would want to live in a town where everything seems to move so slow and everything seems about 10 years behind the times? Even though her parents and brother seem excited at the prospect of running a Victorian B & B, she has a hard time feeling anything but angry and depressed - who moves their daughter when she is about to start her Senior year in high school, no matter what she may have done in the past?
Jessie's life is about to turn around in a major way, all thanks to the town "crazy" Madam Ceara. At first, Jessie isn't sure what to make of her, especially after it seems as if she truly is the psychic she proclaims to be. But after seeing a door that mysteriously vanishes and reappears in her house, she turns to the one person who may be able to help make sense of some of this. What Madam Ceara tells her is shocking, and would make most people shake their heads in disbelief. But Jessie has faith that not only is Madam Ceara right about the "magic" of the door, but also right when she tells Jessie that following the advice she gives will drastically change her life, even if it endangers it at the same time.
Linda Kay Silva has written a thought provoking story, that leads you down a path not traveled often. Open your mind and heart, and pick up this fantastic read that will be sure to evoke thoughts and emotions that may have been buried deep within you.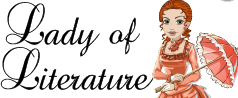 Visit Tracee @ Review from Here