Genre
: Christmas Romance
Copyright
: 2009
Pages
: 336 pages
Rating
: 2.5/5 Crowns
This book consists of two stories—SILENT NIGHT MAN and SUTTON'S WAY.
SILENT NIGHT MAN
Millie Evans is a librarian who has had to fend off unwanted advances from a psycho named John Hamilton. When John kills himself, he leaves a promise to pay her back. Tony Danzetta believes his childhood friend was driven to committed suicide by Millie. It's only after he sends her away does he discover that his friend had become unstable over the years. He also learned that Millie has a contract killer after her. Now he must see what he can do to protect her as well as get back in her good graces.
Millie Evans has been in love with Tony Danzetta since she was a young girl, but she wasn't his type. He's made it no secret that he isn't the marrying type, yet there is something about Millie that he can't ignore.
If the theme of this story sounds familiar, it is. Not that the same old theme is a bad thing, but I had problems liking Tony. He was the "I am so worldly and you aren't" type. He was also quick to blame other people for his shortcomings. His character seemed a bit immature and childish for someone so worldly.
I also felt the scenes were too rushed and much of it was told in dialogue. There wasn't much believably in this one either. If I wasn't steaming angry at Tony, I was rolling my eyes at some of the outlandish parts. Bottom line is I just didn't like this story.
SUTTON'S WAY
Amanda Callaway is a famous singer who lost her singing voice after an accident on stage. She decided to stay in an isolated cabin in Wyoming. It belonged to the man her aunt had been living with. They were away for the winter.
A wintery blizzard forces Quinn Sutton, a rancher who lived nearby, to rescue Amanda. He brings her to stay at his ranch. Obviously hostile towards her, Amanda sees how gentle he is with his son. She works to understand the coldness he has towards women in general. Since Amanda uses a stage name, Quinn has no idea who she is. Little does she know this secret is like a ticking time-bomb that will blow up in her face.
I enjoyed this story much more than the first. There was a bit more realism and I liked the characters. I understood why Quinn shut himself off. What both of these stories lacked was the deep passion I've felt in some of Diana Palmer's previous books. I felt this story was just okay—not as good as some of her other books.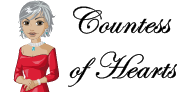 Visit J. Kaye at her blog:
J. Kaye's Book Blog