Title: A Christmas Scandal
Author: Jane Goodger
Genre: Historical Romance
Publisher: Zebra
Book Rating: 4 Stars

Book Description: In her latest romance, Jane Goodger weaves an unforgettable tale of a woman who thinks she's lost everything---until a little Christmas magic reunites her with the one man she could never forget.
Dashing, debonair, and completely irresistible, Lord Hollings has all of Newport buzzing----and to Maggie Pierce's surprise, she alone has caught his eye. But when the handsome earl returns to England without proposing, a devastated Maggie knows she must forget him. Life only gets worse for Maggie as all her dreams of happiness and love come crashing down around her. When Maggie receives an invitation to go to England for the Christmas birth of her dear friend's baby, she accepts---vowing to keep her devastating lies and shameful secrets from the one man she has ever loved.

Edward vowed he'd never marry, but he came dangerously close with Maggie. She's beautiful, witty, indescribably desirable---and Edward can't forget her. When Maggie visits mutual friends for Christmas, Edward can't stay away. In fact, he finds himself more attracted to her than every---a desire fueled even more by Maggie's repeated snubs. With the love he never thought he'd find slipping away, Edward is determined to make Maggie his own, no matter what the cost.

REVIEW of A Christmas Scandal by author Jane Goodger

In this turn of the century Holiday romance I found myself spellbound once again. The sequel to "Marry Christmas".. "A Christmas Scandal" has us revisiting some of Ms. Goodger's most intoxicating and engaging characters.

Maggie Pierce's world has become nothing short of devastation. Her father recently tried and convicted for embezzling money from his firm, jilted by the one man she thought would at least stand by her side through all of this and if that doesn't smack it all, they are now homeless and destitute shunned by New York society. "Is there any hope." Maggie Pierce wonders.

Only one thing brightens up her morose existence. A letter inviting her and her mother to join her best friend in her confinement all the way in England. Rushing to cash her valuables in to pay for the trip all Maggie thinks of is getting away from this shameful scandal and an even more shameful secret.

Upon their arrival Maggie comes face to face with the one man she swore she would never see again--Lord Edward Hollings. Her heart races --as it always did--when ever the dashing Lord came around. But this time Maggie has secrets to keep and no matter how much she loves him she will be stoic and not reveal her feelings to anyone. And most ashuredly she will never reveal them to the great lord who up and ran away back home to England without even saying good by.

A letter has brought Lord Hollings to his bestfriends estate. An invatation to restore what was once the most renknowned library in all of England. Edward jumps at the chance secretly knowing he will once again set eyes upon the one woman who stole his heart that short time in Newport this past summer--Maggie Pearce. But Edward is some what of a package deal now much to his dismay. Trapsesing in his path is his head strong sister, Amelia,along with his widowed aunt and her brew. Really, how is a man supposed to think straight yet alone set up Rand, Lord Bellingham's extensive library in order? And damn it altogether Maggie won't even look at him let alone talk to him. Edward doesn't know what to make of it. did the chit have any real feelings for him. Or was he a tactful ruse to up her ainty in the New York city Society marriage mart. Well, he will find out because it isn't like he's been sitting over here in England pining away for her, reading her letters and carefully retying them with the warn ribbon. Oh no, Lord Holly will get to the bottom of this, for sure!

I adored " A Christmas Scandal". Tthe characters were lively and engaging from beginning to end. Ms. Goodger did a wonderful job in unraveling each characters emotional upheaval. The more I read "A Christmas Scandal" the more I hated to put it down and found myself running back to read another chapter. It is a delicious Christmas morsel that should be savored.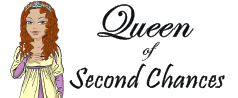 Visit Christine at her blog
Romantic Crush Junkies
or
Over the Edge