Title:
A Seduction at Christmas
Author: Cathy Maxwell
Genre: Historical Romance
Publisher: Avon Books
Book Rating: 4 ½ Stars
Book Description:
She never expected it would come to this...

Desperation and an empty stomach forced Fiona Lachlan to agree to a plan that ended up luring the wickedly notorious Duke of Holburn into trouble. Everything went terribly wrong, and now she has found herself posing as his ward! And while she swore nothing could make her desire a scoundrel, even if he was a duke, she is now drawing ever closer to the one man she cannot have . . .

"Beware of innocence!"

The Duke of Holburn had spent years heeding this warning, and in doing so, managed to avoid the virginal young ladies who had been put in his path. But now his wild ways have gotten him into real danger. There are killers at the door and a temptingly beautiful woman in his arms. He is about to find himself seduced . . . and he isn't quite sure he wants to resist this time.
Read my interview with Cathy Maxwell.
Review of A Seduction at Christmas
I ask you readers is there nothing better than a romance drenched in the Christmas season. I mean before you even open the book you are all ready rooting for the couple to weather any storm.
"A Seduction at Christmas"
by New York Times Bestselling author will have you doing just that. I'm guarenteeing it! So grab a warm cup of joe and snuggle down in your comfiest chair because Cathy Maxwell has given us a wonderfully written story with that inventive, witty and strong hearted heroine Fiona Lachlan.
If your a true blue follower of Ms. Maxwell's work than you will recognizes the spirited Fiona from
"In the Highlander's Bed"
where we were given a bit of Fiona's tragic story. Needless to say she didn't head to the America's with her brother and his new wife. Instead, Fiona tries to break out on her own and prove that she can do it all by herself. No strapping wanna-be heroes need apply!
But hard times fall on the young beauty and she was given an offer she couldn't refuse. One dark and cold night she reports to the Inn and discovers that there is foul play a foot. For standing before her is none other than the devastating Duke of Holbourn. Barely making it out of there alive Fiona sets a plan with the dashing Duke. How could he refuse when tied to her bed? Any man would be a willing pawn in this game. But what neither one expects is for the plot and its makers to be more closer to home than anyone thought.
Trying to foil the attempted murders Dominic has guarded himself from attacks at every point except for his heart. Fiona has known great grief and unprepared for what her heart reveals the closer Dominic and she become. Pretending to be engaged may prove to be the war battered hearts undoing for soon the lovers will succumb.
What can I say but that I LOVED
"A Seduction at Christmas"
and was desperate to read Fiona and Dominic's story as soon as I read the excerpt from the back of
"In the Highlander's Bed"
. Reader I promise you, Ms. Maxwell has crafted another award-winning romance that will leave you breathless and pining for the next book in the series. Ms Maxwell doesn't let her readers down with her energetic and larger than life characters that keeps this action packed romance going from page to page. I was riveted--like most from the moment I opened my book and was devesated when I read the last word.
"A Seduction at Christmas"
is one of those decadent morsels that should be savored and pulled out on those rare occassions you need a heart warming and lucious heroe in need of a strong spirited, self sufficent but in need of the right man to prove to her that love truly does exsist. Enjoy!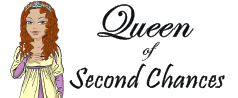 Visit Christine at her blog
Romantic Crush Junkies
or
Over the Edge