Genre
: Paranormal Christmas Romance
Copyright
: 2009
Pages
: 352 pages
Rating
: 4/5
For a year now, Camry MacKeage, a NASA physicist, has been living in a small town in Maine where she dog sits on the week day and bartends on the weekend. Her family had no idea she'd quit her job until Luke Pascal shows up at her parents' home. He'd been corresponding with her when the emails abruptly stop. Camry's mother sends Luke to find her daughter and bring her back for the winter solstice.
When Camry meets Luke, she has no idea it's the arrogant French physicist who wanted to collaborate on a project she'd been working on. They had only corresponded through emails and Luke had not told her his complete name. By the time she discovers who he is, a strong attraction for the two has taken hold. And what they will soon find out is magic is a big factor.
This was my very first book by Janet Chapman. I thoroughly enjoyed her writing style as she adds a bit of paranormal/time travel in with romance. My only regret is I didn't have more of the background information on the previous books in this series. I believe if I had started at the beginning with the first book, I'd have enjoyed the complete story more. Still, it was a fun, engrossing read for the Christmas holidays.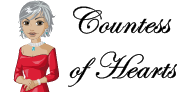 Visit J. Kaye at her blog:
J. Kaye's Book Blog