Genre
: Country Christmas Romance
Copyright
: 2009
Pages: 256 pages

Rating: 5/5 Crowns

My first experience with Linda Lael Miller was her Montana Creeds Series. I had my favorite, but honestly, I loved them all. After I read the last book, I thought that would be all until I saw A CREED COUNRTY CHRISTMAS available. I thought this would be a continuation of the Creed brothers—Logan, Dylan, and Tyler. It's not. The author takes readers back to 1910 where it all began.

Lincoln Creed lost his wife. He's not looking for love. His heart is closed since the woman he truly loved is died. All he would like is a governess to teach his daughter, Gracie.

Lincoln is in town at the Stillwater Springs Courier to see if anyone has responded to his ad when he meets Juliana Mitchell, a teacher from the Indian School. She isn't alone. Four of her students are in her care. With a snow storm heading their way, he offers her and the children a ride. That's when he discovers the school has been shut down and they have no place to go.

Lincoln offers them a place to stay, but trouble is coming. Juliana has no way to provide for herself and someone from the government will be coming soon to take the children. She couldn't let that happen. Part of the solution is an easy one or so it seems, but the attraction between Juliana and Lincoln is unexpected. He still has issues left to resolve before he can love again.

Linda Lael Miller creates a world I'd love to live in. This latest was such an uplifting experience. There wasn't much in the way of love scenes. In fact, I only recall one at the end, but the book definitely a page-turner as I read it all in one evening.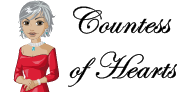 Visit J. Kaye at her blog:
J. Kaye's Book Blog