Genre
: Romance/Fairytale
Copyright
: June 3, 2008

Pages
: 272 pages
J. Kaye's Rating
: 3/5
CRAVE is a modern-day story, loosely patterned after the classic tale of Snow White, only this one is adult rated. Beth Cordova barely escaped her stepmother who intended to killer her. She found refuge under another name with a group of people called the Penitents in rural Pennsylvania. They were shut off from the outside world, which is why Beth felt safe until a new arrival came to the compound.
Stephen Trent is an investigative reporter. His boss sent him undercover in order to dig up dirt on the Penitents, but he knew this was punishment over his last assignment. Two things he didn't expect from this assignment. One was to find a princess who had disappeared and rumored to be dead. Two, he'd never expected to fall so deeply in love.
The cult leaders aren't what they appear. Beth finds out that her stepmother isn't the only evil person intent on killing her. Stephen tries to get Beth out, but places himself in the middle of danger as well. This assignment might just be his last.
While the story is creative in the location and set-up, I had a difficult time connecting with the hero and heroine. I also didn't feel the intensity of the story. Of course, that might be my inability to bond with the main characters. This is the first book I've read by Cathy Yardley. I'd like to give her other book, RAVISH, a go before making up my mind.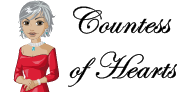 Visit J. Kaye at her blog:
J. Kaye's Book Blog