Genre
: Historical Romance
Copyright
: August 7, 2007
Pages
: 352 pages
J. Kaye's Rating
: 5/5
As sad as this might sound, I've never read the original PHANTOM OF THE OPERA. I did watch the movie with Gerard Butler and the book followed along somewhat. The part that really had me excited was the way this story was told. The book opened with a Biographer's Note. In it, the author claimed to have received the personal diaries of Miss Christine Daaè. This story is Christine's story. From the beginning, this book had a realistic feel to it.
The story unfolds much like the classic, but with some interesting additives. There are rumors of a Opera Ghost who is blamed for anything wrong that happens. Christine, a chorus singer at the Opera House, knows him as her angel who has protected her, tutored her, and is the inspiration behind her singing. What she doesn't realize is that he has fallen deeply in love with her.
When Christine takes center stage, Victome Raoul de Changy, a childhood friend, is in the audience along with his brother, Philippe. On that night, she steals Raoul's heart with her beautiful voice, but his brother wants to possess her too. Soon she's caught in an erotic web of seduction.
This was my second book to read by Colette Gale and though I enjoyed both, this was by far my favorite. In both books, the author has the ability to portray the deep pain of betrayal on paper. She does it in such a manner, parts of the book are hard to read and I have to stop to catch my breath. This is definitely the best historical fiction I've read in a long time – lots of sizzle and plenty of adventure.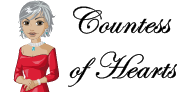 Visit J. Kaye at her blog:
J. Kaye's Book Blog