Genre
: Romance/Paranormal

Copyright
: May 29, 2007

Pages
: 416 pages

J. Kaye's Rating
: 3/5
KISS OF CRIMSON is the second book in Lara Adrian's Midnight Breed series. I fell completely in love with the first book, A KISS OF MIDNIGHT. In this second installment, there is a deadly drug that's turning vampires into Rouges. When a vampire turns into a Rouge, he savagely kills any human that crosses his path. Dante is on the drug trail when he is injured. He stumbles into a veterinarian clinic late one night where he meets Tess Culver. All he needs is a little of her blood to heal. Once he's done, he'll wipe her memory and no one will be the wiser. Too late did he discover Tess was a Breedmate. Once a vampire drinks a Breedmate's blood, their bonding begins.
With his brethren in danger of this drug, Dante doesn't have time to deal with Tess. He soon discovers that Tess is somehow connected, only she has no clue. He will also come to understand the power this bond has over him. Unfortunately, Tess has no idea who Dante is. By the time she finds out, the bonding ritual is done.
What I loved in book one wasn't found in book two. In the first book of this series, the author focused on just the love interest of the two main characters, Gabrielle Maxwell and Lucan Thorne. In this story, it was split between Dante/Tess and Chase/Elise. I really find that distracting and have to skim the story when it splits off from the main two characters. That could be why I was halfway through the book before the story hooked me.
Will I continue with this series? You betcha! I do have one recommendation and that's to start with book one and read the series in order. Each book is a continuation from the previous one.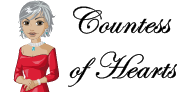 Visit J. Kaye at her blog:
J. Kaye's Book Blog