Welcome to another big new week @ Royal Reviews!

We've got a fresh new look and we're ready to dish up some royal-themed novels to celebrate. Featuring Marquise of Mischief, Queen of Happy Endings, Empress of Good & Evil and myself, let me introduce this week's theme:

The Six Brides of Henry VIII

Yes, this week we're covering 3 Katherines, 2 Annes and a Jane. Phew! I can barely remember them all...I wonder how poor Henry coped with it?!
Oh. That's right...
For those of you who may want to get into the mood of the week a little, I have some fantastic photos for you below from Season Two of The Tudors (raise your hand if you're a fan!). Although after all the HF reading I've done the past two years, I've come to accept that Henry VIII didn't look anything like Jonathon Rhys Meyers
*sigh*
A girl can dream, right?
PS Does anyone know if the plan on making Jonathon Rhys Meyers obese like the real Henry VIII? That man did a lot of emotional eating by the looks of it but JRM is still as buff as a 20 year old sportsman...just with an oozing pustule on his leg.
Queue mood music...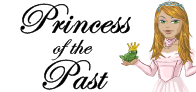 Visit Annie @ her blog
Reading, Writing & Ranting