Genre
: YA Romance
Copyright
: August 1, 2009
Pages
: 384 pages
J. Kaye's Rating
: 4/5
Nona's Rating
: 4/5
Kaylee Cavanaugh attends Eastlake High School and tries to be a normal kid. The only problem is she isn't normal. She can tell when a person is getting ready to die. Not only that, she has this need to scream when it happens. It's not these short little screams, but long, loud ones where she loses her voice. It's something she can't control and it's landed her in the mental ward.
When Kaylee and her best friend, Emma, were out dancing, it happens again. This time though, Nash Hudson, a really hot guy from school is there. She's not sure what he does to her, but his voice has a calming effect and she's able to control her screaming. Little does she know that Nash understands what's going on. The secrets he reveals will open up a mythological world of faeries and creatures of the Netherworld.
As Kaylee tries to understand the secrets that have been hidden from her, classmates are dying for no apparent reason. Kaylee and Nash with the help of a reaper, try to uncover the reason before anyone else dies.
This was a fun, fast urban fantasy novel with just a touch of romance. There were a couple of spots that threw me off or maybe it was my narrow mind that couldn't get around the whole grim reaper thing. Once I was able to relax with that, the story picked back up for me.
My daughter, who also read the book, loved the grim reaper angle and felt it added drama to the story, especially Tod – okay, he was a favorite character of mine too. She felt the love interest that developed between Kaylee and Nash was a bit much at times, but I didn't feel that way at all.
The ending had the perfect formula. It didn't leave us just hanging there, but we both are anxious to read the next book in this series..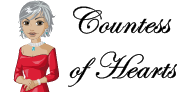 Visit J. Kaye at her blog:
J. Kaye's Book Blog
and a very special thank you to J. Kaye's daughter Nona for her contribution to this review!