When sixteen-year-old Aden first locks eyes with Mary Ann, something wonderful and horrible happened at the same time. For Aden who lives with four souls inside him, there was a blissful peace – no voices calling out to him. For Mary Ann, it was the beginning of a completely new life. Not only can she quiet Aden's voices, but also there are secrets about her past she will discover.

What neither of them realized was the moment the two visually connected, a surge of energy exploded sending shock waves into the paranormal world. The first to arrive were Victoria, a vampire, and Riley, a werewolf and Victoria's protector. Although Aden is attracted to Victoria and Riley to Mary Ann, Aden and Riley react towards each other as enemies. Aden and Riley will have to put their differences aside for the battle ahead.

It took me a long time to get into the drama brewing between these teens. I just didn't feel the passion and wondered if the story would have been better if the relationship between Aden and Victoria would have been highlighted more in this book instead of equally on both couples. My daughter didn't feel that way. She was hooked from the very beginning. She also feels that this is a great setup for the next book.

What we did agree upon is that the concept of the story was interesting. Aden having four spirits who poses a special ability adds to the flavor of the story. The author did a great job with Aden's voices as not once did I find it confusing.

We both agree that the ending didn't leave the reader dangling, but gives enough to interest the reader in the next book. Although I probably won't be reading the next book in this series, my daughter will. She's hooked.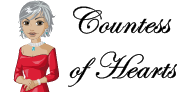 Visit J. Kaye at her blog:
J. Kaye's Book Blog
and a very special thank you to J. Kaye's daughter Nona for her contribution to this review!