Genre
: YA Romance
Copyright
: August 28, 2009
Pages
: 196 pages
J. Kaye's Rating
: 3/5
Nona's Rating
: 5/5
Amy Rose Turner is two weeks from graduating high school. She has been accepted by two colleges. One is a public university, the other, a private and expensive one. Unbeknownst to her parents, she has used all of her savings to reserve a spot at the small, private college, hoping that she'll earn enough money during the summer to attend. Her first interview is for a babysitting job.
When Amy shows up at the Edmund's estate, she discovers the job is really to be a companion for Tristan, someone her age who has recently lost his eye site. At first, Amy wasn't so sure about taking the job. Tristan made it clear he didn't want her there, but his mother was desperate. Mrs. Edmund was so sure that having someone her son's own age would bring him out of his shell that she increased the original hourly wage offer. Amy couldn't refuse.
Even though the two are from different social classes, there is an attraction between the two. Told only from Amy's point of view, I wasn't able to deeply feel Tristan's attraction for Amy. I also wasn't able to feel his torment of being blind. There were a couple or so scenes in the book I didn't feel a recently blind person could accomplish. My daughter, having read the book also, disagreed. Our discussion ended with her in a blindfold to prove her point. She won.
Even with my daughter's insight, I would have loved to see this story from two points of view. Reneè Carter's talent for telling a story is there. I just think, at least for me, it would have added depth to the story to have Tristan's point of view also.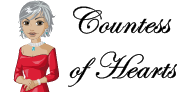 Visit J. Kaye at her blog:
J. Kaye's Book Blog
and a very special thank you to J. Kaye's daughter Nona for her contribution to this review!