Genre: YA Contemporary Romance

Copyright: 2009

Pages: 208

Synopsis:
In an explosion of his own making, Lucius blew his arms off. Now he has hooks. He chose hooks because they were cheaper. He chose hooks because he wouldn't outgrow them so quickly. He chose hooks so that everyone would know he was different, so he would scare even himself.
Then he meets Aurora. The hooks don't scare her. They don't keep her away. In fact, they don't make any difference at all to her.
But to Lucius, they mean everything. They remind him of the beast he is inside. Perhaps Aurora is his Beauty, destined to set his soul free from its suffering.
Or maybe she's just a girl who needs love just like he does.

Review:

Lauren Baratz-Logsted's exposition is breathtakingly beautiful. I found myself aching @ the raw emotion & losing myself in the sheer creative brilliance that is Crazy Beautiful!

I didn't read Crazy Beautiful, I devoured it! I must admit, I started to drag my feet as I was reaching the end. Why? Because Crazy Beautiful is so hypnotic (thank you my GH lovin' literary angel, Lauren Baratz-Logsted)!

Crazy Beautiful is an unparalleled fairy tale. Baratz-Logsted's interpretation of Beauty & the Beast is absolutely arresting.

Told w/ a modern twist, Crazy Beautiful will have you believing anything & everything is possible thanks to Baratz-Logsted's striking & charismatic prose.

Crazy Beautiful is told in alternating point of views, which is not only refreshing but allows readers to experience the deeply intense emotions that cover Lucius & Aurora like second skin.

Baratz-Logsted weaves an enthralling tale of fractured teens who are destined to be. Not in some mushy/gushy/eye rolling/syrupy/words on paper/teen heart tripping/"who are you again?" /third rate/ straight to DVD nightmare!

Baratz-Logsted scribes a cultivated novel resplendent in exquisiteness! Lucius & Aurora are soulmates. You will become enchanted, bewitched & ravenous for more.

Baratz-Logsted's provocative duo are extremely well written, you can't help but wish them to exist outside of the pages she skillfully crafted.

Every player in Crazy Beautiful is vital to the story ~ the novel just couldn't propel smoothly w/o every cast member sustaining the life Baratz-Logsted created for this remarkable tale.

Crazy Beautiful is rich w/ a sense of strong family dynamics. Aurora's relationship w/ her father is well orchestrated & a breath of fresh air. Lucius' place in his family is realistic & well developed & the author deserves kudos for not sugar coating his role.

I absolutely loved the mall scenes w/ his sister. Misty is a dynamic character & I'd love to see her get her own story.

Crazy Beautiful is a fast, emotional read w/ a unique take on a classic tale.

Now since Baratz-Logsted lightly touched upon Lucius' back story, I am hoping visions of a prequel dance in her head. Hint ~hint! I wouldn't mind if it was told in alternating perspectives as we experience life w/ Aurora's mom.

I loved Lucius! He was such an enthralling character; he simply jumped out of the pages. He was absolutely a three dimensional player. I adored Aurora! She was authentic & not so sweet you develop sugar shock. Aurora popped out of the pages, too. It was like watching a play.

Despite some of the dark undercurrents, Baratz-Logsted shines w/ humor.

Crazy Beautiful is crazy good & made me crazy crazier. Why? 'Cause I wanted more. Much more. I wanted to see Lucius & Aurora outside of the school environment & was spoiled when they had dinner.

To me the end was a bit rushed & I felt a bit cheated because I fell in love w/ these mesmerizing characters, I wanted more Lucius & Aurora. I know there is more to these two & I hope Baratz-Logsted doesn't forget to tap into a prequel & a sequel because this definitely showcases characters worth knowing!

Hurry! Grab your copy of Crazy Beautiful!

Check out Lauren's website
here
.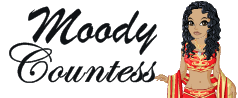 Visit Diane's blog @
The Book Resort