Genre:
Fantasy, Romance
Copyright:
2009
Pages:
290 (e-book)
Rating: 4

Book Blurb:
She's known nothing but pain—but love waits in the arms of one man.
Guardians of the Light, Book 2

Maleta is a true survivor. Attacked and left for dead at a young age, she has traded her heart and emotions to become the ultimate weapon of vengeance for the Grey Goddess, Hedda. She swears to depose Queen Sunniva and restore her ancestral home to her brother, no matter the cost.

Cianan is drawn to the mysterious land of Shamar on the power of a vision—the death of a beautiful swordswoman to an army of skeletons. When he meets Maleta, he recognizes two things. She is his true Life-Mate. And she is the woman fated to die this horrible death.

He vows to change her fate.

Cianan must unite the diverse people of a fragmented land to overthrow a vicious despot and convince their true queen to take the throne. Falling in love with a mortal woman who's buried her heart and shies from his every touch—that's the real challenge.

Maleta knows she can trust Cianan to save her country. Can she trust him to help her save herself?

Review: I've often wondered if in romance and fantasy novels a class was taught about 'how to recognize your life mate and ways to ensure they don't run away', it might solve a lot of issues. For one thing, you won't make stupid blundering comments or move too fast when you should be learning the lay of the land (so to speak). I have a feeling Cianan might have taken a class along those lines, for his patience with Maleta is extraordinary.
Cianan has a hard time ahead of himself. Maleta isn't sure she wants Cianan--not because of anything personal, its just...she's had a hard life. Not any easy life. You don't become a tool vengence without giving something up (well not if you're a well-rounded character at least), and Maleta gave up what she thought she didn't need.
I really liked Maleta, her worldview wasn't completely black and white and she straddles the line of 'almost going too far' well. She struggles and tries and understands that not everyone is like those men who used her so long ago, but what the mind understands doesn't mean the heart does. She's a strong woman--her past wars with her present (and future) with equal strength, but its not until Cianan that she consciously works past the issues.
Cianan, as I mentioned, is a patient and gentle guy. Unlike Loren from the first book he recognizes that his life mate isn't going to be on her knees blessing the Lady for the wonderful fortune of having Cianan as hers. He understands that to get to know Maleta, get her to trust him and open her dormant heart to him, he has to work with her. Prove himself. So nice to see in a hero!
This is a shorter novel then Duality was, but it didn't feel like anything was cut out. Wildes does a really good job of keeping the pace moving without sacrificing detail or development. I look forward to seeing what happens in the third book (Lycan Tides) and further adventures!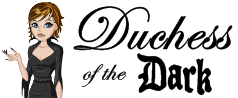 Thanks to Lexie from
Poisoned Rationality
for this fantastic review.