Genre:
Fantasy, Romance

Copyright:
2008

Pages:
333 (e-book)/304 (print)

Rating:
4 Crowns
Book blurb
:
Love will give them strength—or prove to be their fatal flaw.
Guardians of the Light, Book 1

Dara Khan Androcles is really in over her head this time. From childhood she's been forced to hide her half-dragon mage fighting skills behind a public persona as a healer. Now, with a traitor and his demon threatening the throne of Safehold, Dara has no choice but to turn reluctant warrior—and seek help.

She strikes a bargain with runaway Elven prince Loren ta Cedric and his sentient, pain-in-the-butt war mare, Hani'ena. Loren's not only too handsome for Dara's own good, the powerful empath can see right through to the pain that drives her.

Loren can't help but feel Dara's every hurt, physical and emotional. Though his need for her drives him half mad, he must stay his course to see justice done for his people. Even if it means swearing a Life Debt to the distracting mortal.

That vow, made in the heat of their parallel quests, carries more power than either of them guessed. The power to bond the unlikely pair as Life Mates. The power to lay bare the fears and desires that could bind them to a single purpose—or tear them apart.
All the while a demon awaits, ready to destroy all that they hold dear.

Review: I really like the cover to this e-book/print book (its avail in either form). Its very pretty and is relevant to the story itself (I know such a novel idea!). The author kindly offered up the e-book for me to read and review (loves to Renee!) and before anyone says anything--there's plenty of the evil happening in this story to fulfill my love of dark things.

In fact I kind of loved to hate the evil despot of this novel, but I'm jumping ahead of myself.

The novel begins with a battle and takes off from there. In this land where women are forbidden to heal, to learn to fight for themselves--Dara is both. Through the grace of her adoptive father Rufus she's learned to be deadly with blades and through her adoptive mother's teaching she learned the healing arts. Her meeting with Loren is a fated thing and causes her a certain amount of trouble, but really not anymore then she would have gotten in by herself.

She doesn't really like to follow rules honestly.

This is a pretty standard fantasy--elves, demons, healers, magic--on the surface, but its full of wit, appropriately despotic evil doers and a relationship between Loren and Dara that felt very real. I found it rather amusing that Loren is all gung-ho about being Bonded while Dara is more resistant since she isn't exactly certain life-bonding yourself to a person you just met a couple days before is a really smart idea. For what its worth Loren's war-mare Hani'ena agrees with Dara.

Jalad, the despot I keep mentioning, is a horrible, twisted and dark-souled person. Well 'person' is a loose term for him really. I'm not certain that a human being could be as...evil as he is by themselves. I hated him, but man did he keep me interested to see what he came up with next!

My only problem with the book was that there's a lot of 'apostrophes' and stilted formal speech patterns throughout. While the apostrophes do serve to break up the speaker's dialect and give a sense of difference, they distracted me and had me concentrating too long on deciphering the words. The stilted formal speech was mostly when it came to Loren and his kind, or if Dara was feeling especially ornery. It threw off my flow of reading more often then not.

Duality was recently released in paperback form and has two sequels already out--Hedda's Sword and Lycan Tides, all three avail from Samhain. A fourth book is forthcoming and a fifth is rumored.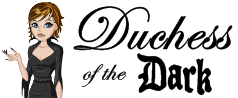 Thanks to Lexie from Poisoned Rationality for this fantastic review.