Genre:
Fantasy

Copyright:
2007

Pages:
320

Rating:
5
Book Review:
This book is enchanting, lovely and completely engaging from the moment you pick it up. This was another great read recommended to me by
The Eclectic Reader
. After reading
Teddyree's review
I ordered the book from my local library and have had it sitting on my shelf for weeks, it is actually due back on Monday. I was just in the mood for something light and magical so I picked this up last night.
I absolutely loved this book, it was a truly magical story about average people and all the problems they have living their lives. It's so exciting when you pick up a book that engages you with every page that you read, it is also a rare treat.
This book is filled with characters that you just have to love and care about. You have no choice!
Evanelle is the wonderful old Aunt that has an overwhelming compulsion to give people things they are going to need before they know they'll need them.
Claire Waverley is one of the sisters who have a lot of issues to work out. Claire has spent her life avoiding people so that she could not be hurt when they leave. She has a catering business and uses special ingredients from her garden that cause magical things to happen.

Sydney Waverley is Claire's younger sister who comes home after 10 years, running from something she is terrified of, but she doesn't share this with anyone and only her daughter Bay knows the truth.

Apple trees are not usually odd or violent, but the Apple tree in the back yard of the Waverley home is a magical tree. It will tell you secrets about your life, some you shouldn't know. It also throws apples at people which is really funny as it has very good aim.


This is an absolutely fantastic feel good story. The authors writing is lyrical and it was just like feeling the touch of a gentle summer breeze as I read this story. I can't recommend this book highly enough to anyone who loves magic, flowers, plants, family love and romance.


You can find out more about Sarah Addison Allen at her
website
. I have ordered her next book Sugar Queen and am looking forward to The Girl Who Chased the Moon (March 2010). Order any of these books from
Book Depository
(free international postage) or
Amazon
.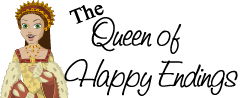 Visit Alaine at her blog
The Queen of Happy Endings