The terrific Chloe Neill has decided to visit The Royal Reviews to have a little chat.

Enjoy...






Me: What are you working on now? (If you can give us a hint!):
CN: I am currently working on TWICE BITTEN, the third book
in the Chicagoland Vampires novel.

Me: Spiderman or Superman:
CN:Spiderman. I love Toby Maguire!

Me: Wonder Woman or Batgirl:
CN: Definitely Batgirl. I loved watching the classic Adam West episodes of Batman. Batgirl was
fabulous!

Me: Chunky or Smooth:
CN: Chunky.

Me: Favorite flavor ice cream:
CN: Peanut butter and chocolate

Me: Favorite ice cream topping:
CN: Anything chocolatey/chewy/crunchy.

Me: Subway or Taxi:
CN: Neither. My pretty little coupe.

Me: Broadway Show or Movie Theater:
CN: Broadway show, theoretically, although I don't have much time now for shows.

Me: TiVo or DVR:
CN: DVR. It's a lifesaver.

Me: Favorite vacation place:
CN: The Gulf Coast of Florida. I went for years and years as a child, and I'd really like to get back.

Me: Next vacation destination:
CN: Racine, Wisconsin for a booksigning on September 12, 2009!

Me: Favorite NYC hotspot:
CN: I'm not sure I've been in NYC enough to have a favorite hotspot. How about Navy Pier in
Chicago? I love looking at the Lake.

Me: Guilty Pleasure:
Me: Diet Coke.

Me: Good luck charm:
CN: My dog, Baxter.

Me: When you were a little girl, you thought you would grow up to be a….
CN: Teacher or bureaucrat--I loved playing with
forms and paper!

Me: Last thing bought at the mall:
CN: Clothes for Mr. Neill.

Me: Item on your grocery list:
CN: Chocolate chips, so that I can make muffins.

Me: French fries or Onion Rings:
CN: French fries, although I don't eat them very often.

Me: Pizza: New York or Chicago?
CN: ALWAYS Chicago!!

Me: Midnight snack:
CN: Organic chocolate milk. It fights the urge to munch.

Me: Bookmark or dog ear?
CN: Dog ear. My books have that lived-in look.

Me: Read with dustjacket or remove it?
CN: Remove it; it gets in the way.

Me: Ocean, Lake, Desert, Mountain:
CN: (Gulf Coast) shoreline, preferably.

Me: Favorite book:
CN: Too many to mention. Start with anything by Christopher Moore or Neil Gaiman.

Me: Item you can't live without:
CN: My laptop.

Me: Who is your favorite writer that most people have never heard of?
CN: I'm not sure I've read anyone that folks haven't heard of . . . unless it's me! :)

Me: What kid or teen books made a difference in your world growing up?
CN: Anything by Judy Blume, Beverly Cleary, Lois Lenski. I read them all over and over and over again.

Me: Where do you like to write your books (bed ~ coffee shop ~ an office)?
CN: Couch with a laptop, or coffeeshop with laptop if I have that kind of time.

Me: Describe your ideal place to write:
CN: See above. I'm not picky about where--what matters is whether the words are
flowing.

Me: What are you reading @ the moment?
CN: Absolutely nothing. Just finished "Finger-Lickin' Fifteen" by Janet Evanovich.

Me: Where do you usually read?
CN: Spare moments, five minutes at a time.

Me: Do you usually have more than one book you are reading at a time?
CN: When I had time to read, yes. But not currently.

Me: Do you read nonfiction in a different way or place than you read fiction?
CN:Nope. I don't read much nonfiction, unless I'm doing research for a novel. Lately though, I suppose I read them exactly the same--which is to say, not often! Trying to meet my deadlines has stripped away my free time.

Thank you, Chloe, for the fun interview & stopping by Royal Reviews during Vampire Week. You are fangtabulous!


Contest Alert
To celebrate Vampire week I'm giving away a copy of Chloe's
Some Girls Bite
. All you have to do is leave a comment on the blog this week & make sure you leave your email address. The more comments you leave... the more entries you have :}!
Good Luck!!!
Visit Chloe @
chloeneill.com
.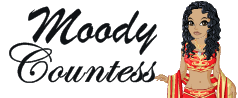 Visit Diane's blog@
The Book Resort