Genre
: Urban Fantasy
Copyright
: 2009
Pages
: 352
Rating
:

Synopsis
:
Sure, the life of a graduate student wasn't exactly glamorous, but it was Merit's. She was doing fine until a rogue vampire attacked her. But he only got a sip before he was scared away by another bloodsucker—and this one decided the best way to save her life was to make her the walking undead.Turns out her savior was the master vampire of Cadogan House. Now she's traded sweating over her thesis for learning to fit in at a Hyde Park mansion full of vamps loyal to Ethan "Lord o' the Manor" Sullivan. Of course, as a tall, green-eyed, four-hundred- year-old vampire, he has centuries' worth of charm, but unfortunately he expects her gratitude— and servitude. But an inconvenient sunlight allergy and Ethan's attitude are the least of her concerns. Someone's still out to get her. Her initiation into Chicago's nightlife may be the first skirmish in a war—and there will be blood.
Review
:
Some Girls Bite
is the kick off novel in the Chicagoland Vampires Series. Chloe Neill makes her delicious debut penning this fantastic new urban fantasy series situated around the
adventures
misadventures of the delightful Merit. Oh, did I mention that she happens to be a reluctant initiate for the Windy City's Vampire denizens?
Narrated in the first person (which I am not always thrilled to read) Neill does a
fantastic
job weaving this engrossing novel through Merit's eyes.
Neill definitely goes beyond the new breed of vampire chick-lit territory that has staked (couldn't resist ; p) its claim on this increasingly popular sub genre.
The story line is peppered w/ juicy plot twists that can rival the best Hollywood blockbuster.
Some Girls Bite
is a fast paced read bursting @ the seams w/ a medley of mystery, romance, hilarity & adventure!
Neill's characters are alluring & each well thought out player can carry their own in this charming debut.
Applause to Neill for doing a terrific job sprinkling in supernatural creatures to spice it up even more!
Vampire --fanpire-- fiction fans will definitely place
Some Girls Bite
on their keeper shelves!
Contest Alert
To celebrate Vampire week I'm giving away a copy of Chloe's
Some Girls Bite
. All you have to do is leave a comment on the blog this week & make sure you leave your email address. The more comments you leave... the more entries you have :}!
Good Luck!!!
Visit Chloe @
chloeneill.com
.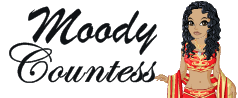 Visit Diane's blog @
The Book Resort