Genre
: YA Fantasy

Copyright
: 2009

Pages
: 563

Rating
: Four Crowns

Series
: The Caster Chronicles, #1

Synopsis
:
There were no surprises in Gatlin County.
We were pretty much the epicenter of the middle of nowhere.
At least, that's what I thought.
Turns out, I couldn't have been more wrong.
There was a curse.
There was a girl.
And in the end, there was a grave.

Lena Duchannes is unlike anyone the small Southern town of Gatlin has ever seen, and she's struggling to conceal her power and a curse that has haunted her family for generations. But even within the overgrown gardens, murky swamps and crumbling graveyards of the forgotten South, a secret cannot stay hidden forever.

Ethan Wate, who has been counting the months until he can escape from Gatlin, is haunted by dreams of a beautiful girl he has never met. When Lena moves into the town's oldest and most infamous plantation, Ethan is inexplicably drawn to her and determined to uncover the connection between them.

In a town with no surprises, one secret could change everything
.
Review
: Beautiful Creatures was a little slow in the beginning and I was over 1/4 of the way through the book before I was engaged in the story. I enjoyed the authors vivid description of the little town and the way they slowly built the intrigue in the book but it was a little slower than I like. For me a great book is one the you either can't put down or you can't stop thinking about it when you do. I could put this book down but was still really wanting to find time to sit down and finish it.
Lena was a fascinating character and in fact was the source of most of the intrigue in the first half of the book. Ethan was portrayed as a typical teenage boy who wanted more than living in a small town could give him. His mother was dead and his father was a recluse who spent his nights in his office 'writing' and days sleeping. He was an only child being raised by the family 'housekeeper' Amma, although she was more like a bossy Grandmother. The love story between Lena and Ethan was one of the most touching and realistic that I've ever read in a YA, I felt the connection between to two of them and it was beautiful. Being a YA it didn't cross any lines and teens as young as 12 or 13 could read this story.
The book built up to a huge finish but again I felt this was a little dragged out. However, it was well worth reading until the end and I thoroughly enjoyed the way in which the book ended. It wrapped up most of the intrigues but left a few hanging. These included, what will happen to Lena when she turns 17, did she actually choose dark over light, what happened to Ethan's Mum, what happened to Link's Mum, what about Ridley, will she be punished and by whom? All of these things will hopefully be answered in Book 2, Beautiful Darkness.
This is a great book and one that I definitely recommend, just be patient with it as it takes a little time to build the intrigue. For more info about this book and it's authors check out their
website
, you can also download the song Sixteen Moons.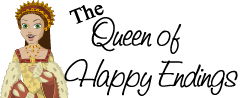 Visit Alaine at her blog
The Queen of Happy Endings