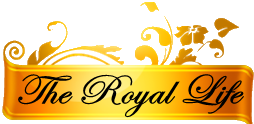 Today we're debuting a new venture for our Sunday Features (as I've run out of Oldies but Goodies to write about!). The Royal Life is a look into the lives, homes and leisure of the Royals and aristocrats of Europe. We aim to give you a few more places to add to your Travel Wishlist!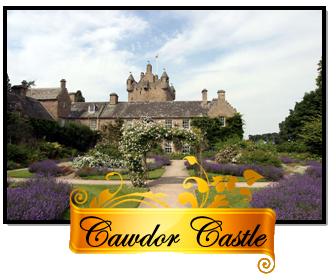 Visiting Scotland has been on my Bucket List for a long time now (and on my Mum's even longer) and next year we look like we'll finally be able to make that dream come true. While I've been a busy bee researching all the places I'd like to go, I stumbled upon the rich history of the enchanting Cawdor Castle.


It's believed that Cawdor Castle may have been built in the 14th Century and if the name sounds familiar, you may be thinking of the ill-fated Macbeth of Shakespeare's plays (but we'll get to that later). The grounds contain some of the most beautiful gardens you will ever see (c 1600), a golf course and the Cawdor Big Wood. However, the fascination I have with this place believe it or not has actually nothing to do with the gorgeous exterior but with the scandalous ancient and modern history it has housed.

Here's my favourite story:

In 1498 the 8th Thane of Cawdor died, leaving behind an infant daughter Muriel as the sole heir to his vast fortune. Her paternal uncles were outraged and tried many different ways to prove the baby was illegitimate but each time they were unsuccessful. The bickering and strife continued until eventually, James IV stepped in and decreed that her maternal uncle Hugh Rose and Archibald Campbell 2nd Earl of Argyll would be her 'tudors dative' until she was of marriagable age.

This opportunity proved to be too tempting for, Archibald Campbell as he soon ordered that the girl be kidnapped so she was to be raised at his own castle at Inverary and he could keep a close eye on her fortune. Upon hearing of this plan her fast-thinking nurse branded the young Muriel on her hip with a red-hot key from her coffer and bit off the tip of her pinky finger to ensure she could be identified by her family if she were ever returned to them.

The Campbells arrived and after some fierce fighting from her paternal uncles, Muriel was captured and taken to Inverary Castle where she continued to live for the remainder of her childhood. As you might have guessed, in 1510 Muriel was wedded to Archibald Campbell's son John, thus founding the Cawdor Campbell family. Yet this story does have a happy ending for our poor Muriel - it is documented that she had a very happy and contented marriage with her husband John and she was said to have loved him deeply. Lady Muriel lived to a great age and eventually saw her estates pass on to her Grandson. Perhaps she is the reported ghost in the blue dress who walks the halls of Cawdor?

Kathryn Lynn Davis has written the love story of John and Muriel in her novel, Child of Awe. I don't believe it is still in print but you can purchase copies from Amazon and they also sometimes turn up on Ebay. It's a great historical romance read and worth hunting down!

As for the modern drama - boy is that a soap opera! The current
Dowager Countess of Cawdor and her step-son frequently have at it in the tabloids and the courts over who owns what, who did what to whom. It's a shame that a family drama should taint such a beautiful history but it is also kind of interesting too...I'm not going to declare sides (although my mind is made up!) but if you want to read about it, you can check out a couple of articles here and here.

As for Macbeth - Unfortunately, Shakespeare did get it a little wrong here and rather than trying to rewrite the history, I'm going to quote Undiscovered Scotland:
One name often associated with Cawdor Castle has not been mentioned in this story. Macbeth was King of Alba from 15 August 1040 to 15 August 1057. In Shakespeare's play named after him, written in 1606, Macbeth encounters three witches who hail him as "Thane of Glamis" and "Thane of Cawdor", and tell him he will "be King hereafter".

The origins of this story date back 200 years before Shakespeare's time, and in its original form referred to the Thanages of Cromarty and Moray. The names were changed to Glamis and Cawdor by a historian writing in 1527, apparently because they sounded better, and it was this version of the story on which Shakespeare based his play. The truth is that Macbeth died 130 years before the title of Thane of Cawdor was first granted, and over 300 years before the first stone was laid at Cawdor Castle. He has, perhaps sadly, no connection whatsoever with any Thane of Cawdor, or with Cawdor Castle.

If you would like to learn more about Cawdor Castle, I highly suggest visiting the Undiscovered Scotland website.