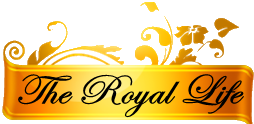 The Royal Life is a look into the lives, homes and leisure of the Royals and aristocrats of Europe. We aim to give you a few more places to add to your Travel Wishlist!
Castle Campbell, Clackmannan Shire, Scotland
I know I keep coming back to Scotland with these posts but I can't help it - it's what I know and love. So hopefully all you Outlander fans can stick with me as we put on our hiking boots and trek the rugged mountains of the Scottish highlands for a few more weeks :)

The History
I love how foreboding this all is but here goes: Castle Campbell was originally called Castle Glume (as in gloom and doom) but was renamed to the much more upbeat Castle Campbell in 1489. It is position most dramatically overlooking Dollar Glen and running down one side of the castle is the Burn of Care and the other is the Burn of Sorrow (Burn as in stream).

Initially the stronghold of Clan Stuart, the castle passed to Clan Campbell in 1400's through marriage. It remained the lowland stronghold of the clan until 1654 when it was burned after political turmoil stirred by Walter Cromwell.
The castle itself has had some famous guests including Mary, Queen of Scots and John Knox and while I don't have any highly dramatic stories regarding its residents to recount for you this week, I would love to share some of the amazing photos of these ruins. The care of the castle is now in the hands of Historic Scotland. Enjoy :)