Genre:
YA Fantasy, Adventure
Series:
Nicholas Flamel # 2

Copyright:
2009
Pages:
496
Rating:
3/5
Synopsis:
After fleeing Ojai, Nicholas, Sophie, Josh, and Scatty emerge in Paris, the City of Lights. Home for Nicholas Flamel. Only this homecoming is anything but sweet. Perenell is still locked up back in Alcatraz and Paris is teeming with enemies. Nicolo Machiavelli, immortal author and celebrated art collector, is working for Dee. He's after them, and time is running out for Nicholas and Perenell. For every day spent without the Book of Abraham the Mage, they age one year—their magic becoming weaker and their bodies more frail. For Flamel, the Prophesy is becoming more and more clear.

It's time for Sophie to learn the second elemental magic: Fire Magic. And there's only one man who can teach it to her: Flamel's old student, the Comte de Saint-Germain—alchemist, magician, and rock star. Josh and Sophie Newman are the world's only hope—if they don't turn on each other first.
Review:
I thought the Magician was more entertaining than the Alchemyst. There was more action, more conflict, more magic, more suspense.
Just.. more.
There weren't many historical and magical creatures coming to life moments, so I was glad for that part.
It was shocking to see the lengths Josh went to just to be equal to Sophie. The sibling rivalry was intense. While Michael Scott's writing didn't make me feel devastated, it did give me a WTF moment. The quest for power is never true, so it'll be interesting to see him and Sophie fight among themselves in the next few books.
I got to see more of Perenelle this time around. She's equally, if not more, powerful as Flamel, and it was nice to see that my views of her being a useless partner being dashed so thoroughly! If it ever came to a fight, I think I'll side with Perenelle, thank you very much.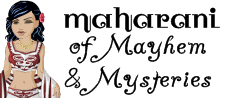 Visit Liyana at her blog
Liyanaland
.