About Oldies but Goodies
Sometimes old books can get a little lost in blogland among the piles of ARCs and new releases. So every week on a Sunday, we're going to be focusing on an old favourite - a book that was published at least 5 years ago and deserves to be recognised.

How to Participate
If you would like to participate, please feel free to leave a comment with your favourite Oldie but Goodie or leave a link to a blogpost you've done on the topic using the Mr Linky at the bottom of the post.


**Becky @
Page Turners
runs a meme on a Sunday called Blast from the Past which has similar rules and themes as Oldies but Goodies. Becky's meme came about first and she picks some fantastic books so please pay her a visit.**
THIS WEEK'S OLDIE BUT GOODIE:
Title:
Into the Wilderness
Author:
Sara Donati

Genre:
Historical

Copyright:
1999

Pages:
912
Synopsis:
This highly praised novel follows the adventures of a woman in the late 1700s who joins her family in a remove New York mountain village, teaches the school children there, gets into conflicts with local slave owners, and meets a white man involved with the Mohawk Nation.
Why I love it: What the synopsis above doesn't really convey is that among the strikingly real drama of the 1700's this author has created a fabulous love story with her characters Nathaniel and Elizabeth. With throwbacks to Diana Gabaldon's Outlander series (without the time travel and the hot Scot) this first novel in the wilderness series is absolutely enthralling. It's a chunky chunkster but it is also deeply rewarding and I was surprised how quickly I actually got through it. That the author was able to create and sustain the suspense and develop the love story over that many pages is a testament to her skill and dedication.

When I read this, it was the first time I'd ever read a novel that explored the history of Native Americans and I was truly fascinated. I guess I'd never really learnt much about early American history and I felt that Sara Donati provided a very broad picture of the Mohawk Nation. The way the author used two outcasts as a vehicle to convey the conflict and heartache that divided the country was not only very clever but very compelling. It definitely reminded me of The Last of the Mohicans.

Plus, it has to be said that in my mind Nathaniel Bonner is hot stuff. Yet even without the delicious mental image his personality alone is downright sexy. Protective and loyal, affectionate and playful, clever and brave...I can see why Elizabeth fell in love with him so quickly...I certainly did! I like him ALMOST as much as Jamie.

The dialogue is witty, the story is surprising and suspenseful and there are scenes I still vividly remember more than a few years on (the waterfall scene!)...if ever there was a book that deserved more acclaim it's Sara Donati's Into the Wilderness. Fans of Outlander will love it and in fact, Claire even makes a little cameo in the novel.

The final novel in the Wilderness series, The Endless Forest, is in bookstores now.

PS Happy Valentines Day everyone :-) Hope you're spending it with someone you love.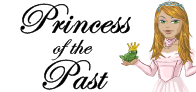 Visit Annie @
Princess of the Past