Genre:
Fantasy

Copyright:
2006/DAW Books
Pages:
309 (trade paperback edition)

Rating:
2.5/5 Crowns
Book Description:
Max Ravenhill was perfectly happy with his life as a history professor until he met Cassandra. Told that he was more than a thousand years old and had known Cassandra and her fellow Wardens all that time, that his life as Max was pure fiction implanted in his mind, and that he was being pursued by the Hunt and his only chance for survival was to flee to the realm of Faerie, Max can only assume that Cassandra is crazy-or he is. But soon it becomes all too clear that at least part of what she says is true. And unless he goes with her, he won't live long enough to separate the truth from the lies.
Book Review:
Originally I bought this book because I thought it was part of Malan's Dhulyn and Parno series (though I'm not sure what convinced me of that), but found out pretty quickly it was its own stand alone fantasy. This is almost my dream come true set-up, but the problem is that its a set-up I've seen quite often in the last decade in young adult fiction. The 'hidden faerie royalty' plot has been beaten to death it sometimes feels like.
In all honesty I enjoyed the human-Max better than later as he regained his memories of being the Guardian Prince, Dawntreader. Its not that he changed for the worse personality-wise, but more I couldn't connect with him as much. Cassandra was hot and cold for me, but a lot of that had to do with a past history with Max that isn't fully explored. She did her job, she did it well, but she resented it a lot of the time, having wished to avoid Max as much as possible. I liked Max and Cassandra's interactions in the beginning, as he tried to convince himself she was the crazy one, she tried to convince him he needed to listen regardless and they both tried to fight their attraction.
I had trouble staying focused while reading the book, my mind kept wandering and I kept wanting to just stop reading, but once I start a book I finish it. Its not that the world wasn't interesting or I wasn't interested in the final battle between the Basilisk Prince (the bad guy) and Max, I just didn't have enough interest. The characters didn't feel real to me, so I didn't feel the suspense or shock that the author was trying to convey at times.
I much prefer the Dhulyn and Parno series by Malan. As a first novel I think this had a lot of potential, but fell flat where the characters were concerned, so that kept this from being a book I could really enjoy.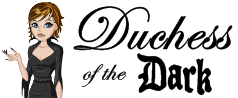 Thanks to Lexie from
Poisoned Rationality
for this review.