Genre:
General Fiction
Copyright:
2009
Pages
: 477
Rating
: 5 Crowns
Book Synopsis
:
Every expectant parent will tell you that they don't want a perfect baby, just a healthy one. Charlotte and Sean O'Keefe would have asked for a healthy baby, too, if they'd been given the choice. Instead, their lives are made up of sleepless nights, mounting bills, the pitying stares of "luckier" parents, and maybe worst of all, the what-ifs. What if their child had been born healthy? But it's all worth it because Willow is, well, funny as it seems, perfect. She's smart as a whip, on her way to being as pretty as her mother, kind, brave, and for a five-year-old an unexpectedly deep source of wisdom. Willow is Willow, in sickness and in health.

Everything changes, though, after a series of events forces Charlotte and her husband to confront the most serious what-ifs of all. What if Charlotte should have known earlier of Willow's illness? What if things could have been different? What if their beloved Willow had never been born? To do Willow justice, Charlotte must ask herself these questions and one more. What constitutes a valuable life?

Emotionally riveting and profoundly moving, Handle with Care brings us into the heart of a family bound by an incredible burden, a desperate will to keep their ties from breaking, and, ultimately, a powerful capacity for love. Written with the grace and wisdom she's become famous for, beloved #1 New York Times bestselling author Jodi Picoult offers us an unforgettable novel about the fragility of life and the lengths we will go to protect it.


Book Review
:
One of my favourite things about Jodi Picoult's writing is that she knows how to take a social issue and put a spotlight on it. Her books are the sort of books that should be discussed around the dinner table with your family. Handle with Care was no exception, in fact, in my opinion it was outstanding. In many ways it reminded me of My Sister's Keeper, I guess because the storyline featured a troubled daughter and a child that needed a lot of attention and special care.
As with any Picoult novel there are many diverse and interesting characters that keep the story moving along. This book in particular tugged at my heart strings and had me crying quite a bit in the first chapter until I got swept away with the story and adjusted to the emotional tone of the book.
The basic plot is that during a scan to find out the sex of her baby, Charlotte discovers her baby girl has OI (osteogenesis imperfecta). This is a crippling disease that causes bones to break extremely easily. As a parent, you can only imagine how difficult this would make the life of your family and your child. After a disastrous trip to Disneyland Sean (husband/father) takes the family to visit a lawyer. They do not get the news they expect but rather find out that they can sue their OB/GYN for wrongful birth. The only problem with this is that their OB/GYN happens to be Charlotte's best friend Piper. Piper's daughter is also best friends with their eldest daughter Amelia. So you can imagine the turmoil that comes into their lives when Charlotte decides to go ahead with this course of action.
The book is written in first person with every chapter telling a different characters perspective. That is, everyone except Willow's (who is the child with OI in the story), the reason for this is that every character is telling their feelings and story to Willow. I loved the way in which this book is written, I enjoyed reading so many different perspectives. Now I have read a few different reviews of this book and a lot of readers didn't like the ending of the book. I personally have come to expect these types of endings with Picoult novels but I guess for me it just served to remind me that life can change in the blink of an eye and that all you can do is make the most of every moment because none of us know what the future holds.
If you are a fan of Jodi Picoult then I can tell you that Book 17, House Rules, is due for release in March 2010. The synopsis for this book is below and was taken from Jodi Picoult's
website
.
HOUSE RULES is about Jacob Hunt, a teenage boy with Asperger's Syndrome. He's hopeless at reading social cues or expressing himself well to others, and like many kids with AS, Jacob has a special focus on one subject – in his case, forensic analysis. He's always showing up at crime scenes, thanks to the police scanner he keeps in his room, and telling the cops what they need to do…and he's usually right. But then one day his tutor is found dead, and the police come to question him. All of the hallmark behaviors of Asperger's – not looking someone in the eye, stimulatory tics and twitches, inappropriate affect – can look a heck of a lot like guilt to law enforcement personnel -- and suddenly, Jacob finds himself accused of murder. HOUSE RULES looks at what it means to be different in our society, how autism affects a family, and how our legal system works well for people who communicate a certain way – but lousy for those who don't.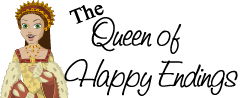 Visit Alaine at her blog
The Queen of Happy Endings