Genre:
Young Adult Fantasy
Series
: Fallen #1
Copyright:
2009
Pages:
452
Rating:
5/5 Crowns
Book Synopsis:
There's something achingly familiar about Daniel Grigori.

Mysterious and aloof, he captures Luce Price's attention from the moment she sees him on her first day at the Sword & Cross boarding school in sultry Savannah, Georgia. He's the one bright spot in a place where cell phones are forbidden, the other students are all screw-ups, and security cameras watch every move.

Even though Daniel wants nothing to do with Luce--and goes out of his way to make that very clear--she can't let it go. Drawn to him like a moth to a flame, she has to find out what Daniel is so desperate to keep secret . . . even if it kills her.

Dangerously exciting and darkly romantic, Fallen is a page turning thriller and the ultimate love story.
Book Review:
I can hardly find the words to express how much I loved this book! It was brilliant! Whilst I know there have been mixed reviews about it, I didn't see the same flaws others did and was utterly captivated by this story. I can understand if some of the ideas of the novel might be uncomfortable for readers with strong Christian views but even then I would think you'd have to wait to see how the story progresses. This was my first fallen angel fantasy novel and it won't be my last. I really enjoyed reading this new sub-genre of fantasy.
Luce is a 17 year old girl sent to reform school for something she didn't do or have any control over. There she mets Daniel and whilst he treats her badly she has this overwhelmingly strong attraction to him that she does not understand. There are often shadows around her, they frighten her and throughout the story you're waiting for them to do something awful to her. There are many unanswered questions in this book, like what happened to Trevor, but that's what a good series does, leaves you hanging!
This book is described as 'dangerously exciting and darkly romantic'. The 'dangerously exciting' I agree with, but I don't think it's 'darkly romantic'. I would describe it as a love created in the heavens, to me it was deeply romantic and it took my breath away. This book has made it to one of my all time favourite reads it was that good and believe me books don't make it to my list easily.
With all the mixed reviews, it seems as though people love this book or hate it - I think you should read it and make up your own mind. Personally, I loved it so much I think it's one of those books that everyone should read. I highly recommend this novel, it is also suitable for teens 12 and over.
For more information about Lauren Kate check out her website. The next book in this series Torment is due out this year. Purchase Fallen from Amazon as a Hardcover, Kindle or Audio book.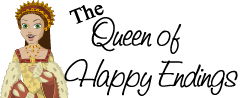 Visit Alaine at her blog The Queen of Happy Endings