Series:
Book 2 in The Flynn Brothers trilogy
Genre:
Paranormal
Copyright:
November 2008
Rating:
4 ½ STARS
Book Description:
When a young woman is found dead in a field, dressed up as a scarecrow with a slashed grin and a broken neck, the residents of Salem, Massachusetts, begin to fear that the infamous Harvest Man is more than just a rumor. But out-of-town cop Jeremy Flynn doesn't have time for ghost stories. He's in town on another investigation, looking for a friend's wife, who mysteriously vanished in a cemetery.

Complicating his efforts is local occult expert Rowenna Cavanaugh, who launches her own investigation, convinced that a horror from the past has crept into the present and is seducing women to their deaths. Jeremy uses logic and solid police work. Rowenna depends on intuition. But they both have the same goal: to stop the abductions and locate the missing women before Rowenna herself falls prey to the Harvest Man's dark seduction.

Review:

Deadly Harvest is the second installment in New York Times Bestselling author Heather Grahams' The Flynn Brothers Trilogy by MIRA which was released in November of 2008.

I am a die hard Heather Graham fan—from her historical to her paranormals and to her contemporary I have loved every word she has written. So it came as no surprise that when Ms. Graham decided to write about three gorgeous Irish brothers and set them in a paranormal state that I was desperate to get my hands on their books. (And yes, I bought all three—DEADLY NIGHT, DEADLY HARVEST and DEADLY GIFT.)

Imagine, if you dare, a menacing, creepy scarecrow clutching a bloody scythe in one hand while his piercing stare distorts his gruesome face. I'll one up you and have you imagine that he possess the power to hypnotize placing you in a trance that makes you believe in your worst nightmares all the while he chants…

"Don't fear the Reaper,

Just the Harvest Man.

When he steals a soul

It's a keeper, so

Don't fear the Reaper,

Fear the Harvest Man,

For when he steals a woman's soul

She'll go to hell or deeper…."

You've just met the HARVEST MAN.

DEADLY HARVEST takes place in Salem Massachusetts on Halloween night and picks up where Deadly Night left off. If you have read DEADLY NIGHT, the first in the series then you will recognize Brad and Mary Johnstone who have appraised their roles. At the end of DEADLY NIGHT the pair have just reconciled and decided what better way to rekindle their love and commitment than to go on vacation to Salem. The pair seems to be getting along splendidly as they check out the Halloween festivities, fist museums, taking in the unusual sites, run through a couple haunted houses and going and having their fortunes read. Okay, myself I would have stayed away from the turban, dark-stained skinned guy that made me feel creepy, but hey that's me—plus the story would have been over if Mary hadn't dragged Brad into the Den of Dementia.

The fortune teller ended up freaking the couple out. so what do you do when some one freaks you out? Why, go to the local cemetery in the dead of night and walk around of course. Of Course! While there Brad and Mary talk about the grave stones and the meanings of some of the symbols on the gravestones. Things start to get a little freaky as Mary finds a headstone that has her name written on it. Soon she begins to hallucinate about standing on top of a hill and a corn field. In her minds eye she sees a shadowy figure calling to her. She can't help but heed his call. And in a blink of an eye Mary Johnstone has disappeared and her husband is the major suspect.

Enter ex-police diver- now a private Detective working with his two brothers who is an unyielding pessimist Jeremy Flynn. Being a copy has led Jeremy Flynn into some horrendously degrading situations. His last assignment was diving into a lake after a foster dad drove drunk into the lake drowning the kids in his care. By shear luck one child--a little ragged black haired boy was barely alive but had clutch Jeremy's hand and begged him for help. Swimming to the surface, performing CPR and riding to the hospital with this little boy still didn't save him. Jeremy's guilt has him seeing Billy's beguiling and sweet face in his dreams. At least he believes their dreams. For in Jeremy's world there are no such things as ghost and any other manifestation. Jeremy Flynn believes in black and white and there is no such thing as gray in between.

That is until Jeremy is forced to work with the local occult expert, bewitching Rowenna Cavanaugh. If things weren't complicated enough, his ex-partner and best friend Brad Johnstone is Salem PD's prime suspect. Now he has to deal with the wackiness of people insisting that another Ungodly force is the blame of the disappearance of Mary Johnstone. Tie in the animal attraction between Rowenna and Jeremy and you have a high octane screamer-read.

I LOVED Dark Harvest. Okay, I will admit I'm not really one of those readers who like to have myself scared whitless. But for New York Times Bestselling author Heather Graham I will make the exception. The characters were engaging from the moment they stepped onto the page. Author Heather Graham did an exceptional job of turning an urban legend of the HARVEST MAN into a fright fest that literally had me hiding under the covers. She had me on the edge of my seat, white knuckling and chewing my nails to the nub. By the time I got to the end I was spell bound and enraptured and ready to continue on with the third installment in the Flynn Brothers Trilogy, Dark Gift.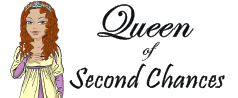 Visit Christine at her blog
Romantic Crush Junkies
or
Over the Edge