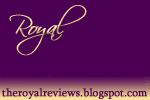 This past week I've been in contact with all our Royal Reviewers to find out who has to time to commit to being a Royal Reviewer in 2010. As life changes and demands on our time change we make decisions accordingly. What this means is that we are looking for two new permanent reviewers and seven new guest reviewers.


Permanent Reviewer:
If you'd like to be a permanent reviewer you would be required to contribute four reviews every three months. Each review is to be done the week before it is due (if you don't think you can keep up with this commitment then please don't apply). A choice of genres and weeks is sent out well in advance and then you nominate which weeks you'd like to participate in. The reviews are spread out over different weeks and we will be specifically looking for reviewers who love historical fiction. You are also expected to respond to our lovely readers comments (especially when your reviews go up) and also pick one of the challenges we will be running and be a cheerleader for that.
Guest Reviewer (Lady in Waiting):

Guest reviewers are required to do one review every three months. I also often call on Guest Reviewers to help out if I am short on reviews or someone is sick. Guest reviews will go up every Friday next year and are required to be completed and emailed to me the week before they are due.
Please email royalreviews at bigpond dot com with details about which position you'd like to apply for and an other relevant information including which genres you read the most.
This Week on Royals:
It's Romance week on Royals featuring the Countess of Hearts, The Princess from the Past and a Lady in Waiting. Who doesn't love a good romance especially at this time of year, so have your TBR lists ready as I'm sure you will add to it this week.
Well that's it from me, sadly I haven't been reading much myself lately but I'm hoping that will all change this week as I have a little more time. Have a great week!
Happy Reading
Alaine