This week there are some wonderful new books that are going to be hitting the shelves of a book store near you. We here at Royals are very excited about a few of them!
The wonderful
Anna Campbell
a fantastic Australian author we love. Her last book, Tempt the Devil, had me reading in front of the air conditioner to try and keep my temperature at a safe level. It was hot, steamy and a fantastic historical romance. Even though Anna is an Aussie, the lucky US readers are getting to see her latest book released on October 27, sadly we won't see it here in Australia until Christmas. You can purchase it from
Book Depository
(free postage) or
Amazon
.
He pledged his honor to keep her safe...

Returning home to Cornwall after unspeakable tragedy, Sir Gideon Trevithick comes upon a defiant beauty in danger, and vows to protect her whatever the cost. He's dismayed to discover that she's none other than Lady Charis Weston, England's wealthiest heiress-and that the only way to save her from the violent stepbrothers determined to steal her fortune is to wed her himself! Now Gideon must hide the dark secrets of his life from the bride he desires more with every heartbeat.

She promised to show him how to love - and desire - again...

Charis has heard all about Gideon, the dangerously handsome hero with the mysterious past. She's grateful for his help, but utterly unwilling to endure a marriage of convenience-especially to a man whose touch leaves her breathless. Desperate to drive him mad with passion, she would do anything to make Gideon lose control-and fall captive to irresistible, undeniable sin.
The final book in the Luxe series is much anticipated. I personally loved this series and pre-ordered this book months ago. Anna Godbersen has written a wonderful young adult historical series that has wide appeal. If you haven't read any of the books in this series yet then I urge you to give them a try, I listened to them on audio which was brilliant. You can purchase Splendor from Book Depository (free postage) or Amazon. You can also read an excerpt from Splendor at Harper Teen.

New beginnings.

Shocking revelations.

Unexpected endings.

A spring turns into summer, Elizabeth relishes her new role as a young wife, while her sister, Diana, searches for adventure abroad. But when a surprising clue about their father's death comes to light, the Holland girls wonder at what cost a life of splendor comes.

Carolina Broad, society's newest darling, fans a flame from her past, oblivious to how it might burn her future. Penelope Schoonmaker is finally Manhattan royalty—but when a real prince visits the city, she covets a title that comes with a crown. Her husband, Henry, bravely went to war, only to discover that his father's rule extends well beyond New York's shores and that fighting for love may prove a losing battle.

In the dramatic conclusion to the bestselling Luxe series, New York's most dazzling socialites chase dreams, cling to promises, and tempt fate. As society watches what will become of the city's oldest families and newest fortunes, one question remains: Will its stars fade away or will they shine ever brighter?


This is the second book in the Bride Quartet. I loved the first book, it is a light-hearted romanctic read that can easily be enjoyed in one or two sittings. Another book to be released on October 27th! You can purchase Bed of Roses from the Book Depository (free postage world wide) or Amazon.

Florist Emma Grant is finding career success with her friends at Vows wedding planning company, and her love life appears to be thriving. Though men swarm around her, she still hasn't found Mr. Right. And the last place she's looking is right under her nose...

But that's just where Jack Cooke is. He's so close to the women of Vows that he's practically family, but the architect has begun to admit to himself that his feelings for Emma have developed into much more than friendship. When Emma returns his passion-kiss for blistering kiss-they must trust in their history...and in their hearts.


Tempted is the sixth book in the House of Night series by P.C. and Kristin Cast. Whilst I found this series a little slow to get going I really enjoyed it and am looking forward to the release of this book. You can purchase Tempted from Amazon or Book Depository (free postage) on October 27th.

Zoey needs a break after some serious excitement. Sadly, the House of Night school for vampyres doesn't feature breaks on its curriculum - even for a High Priestess in training and her gang. Plus juggling three guys is no stress reliever, especially when one is a sexy Warrior so into protecting Zoey that he's sensing her emotions. Wider stresses lurk too, and the dark force in Tulsa's tunnels is spreading. Could Stevie Rae be responsible for more than a group of misfit fledglings? And Aphrodite's visions warn Zoey to stay away from the immortal Kalona and his dark allure - but they also show that only Zoey can stop him. She's not exactly keen to meet up, but if Zoey doesn't go to Kalona he'll exact a fiery vengeance on those closest to her. She just has to find the courage to do what's necessary, or everything that's important to her will be destroyed.

What a great month for new releases October has been, with books like An Echo in the Bone by Diana Gabaldon, Fire by Kristin Cashore and Hush Hush by Becca Fitzpatrick just to name a few. If you know of any other great books that are being released this week leave us a note in the comments.

Coming up on Royals this week is another Anything Goes week, this means that we have a variety of genres and reviewers featured. Hope you all have a great week!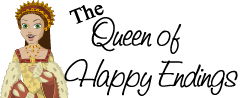 Visit Alaine at her blog The Queen of Happy Endings