Genre:
YA Historical
Copyright:
2009
Pages:
297
Rating:






Book Blurb:
Life in the court of King Henry VIII is a complex game. When fifteen-year-old Catherine Howard catches the king's eye, she quickly transforms from pawn to queen. But even luxury beyond imagination loses its luster as young Catherine finds her life—and her heart—threatened by the needs of an aging king and a family hungry for power. Will their agendas deliver Catherine to the same fate as her infamous cousin, Anne Boleyn—sacrificed at the altar of family ambition?

Engaging historical fiction with a throbbing YA heartbeat, this thrilling novel will draw readers into the intrigues and dangers of the Tudor court.

Review:


When I began reading for this week on Royal Reviews, I was worried that I'd saturated my brain with the Tudors a little too much and that as a consequence, these books would have lost their magic. Alisa M. Libby reminded me why I am so morbidly fascinated by these tragic yet spirited women who were the 6 wives of Henry VIII. Turns out, there was still plenty of room in my imagination for this exceptional tale of Catherine Howard - King Henry's 'rose without a thorn'.
What would it be like at fifteen to walk in the shadows of such a tragic past? What would it be like to bed a man who killed your cousin and could do the same to you with enough reason? This novel explores the emotions of a young woman completely out of her political depth with only the band-aid of finery to make up for all she has sacrificed. Catherine is written realisticly but with a complexity that the historical records do not afford her - too often,naive young women were cast as the two dimensional harlotts of history.
Reading this book, you can't help but feel a sense of impending tragedy, knowing exactly what is coming for Catherine and your heart squeezes every time she casts her thoughts to the future. I really felt the author conveyed the weight of the political manipulation this poor girl was subjected to - she never stood a chance! Had she not been young and foolish then their intrigues certainly would've had her beheaded anyway. Young men and women were pawns of their families and their lives were only as valuable as their influence. If I ever travel back in time to Tudor England - can somebody make sure I'm a farmer's daughter or something? I couldn't stand King Henry's court - I have too little a neck.
Utterly tragic yet still thoughtful and elegently phrased, The King's Rose is one of those books I'm glad I chose to review. It's YA because of the age of its main character but due to its subject matter however, it would still be thoroughly enjoyable to most adult readers of Historical Fiction. I highly recommend this book!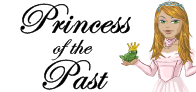 Visit Annie @ her blog
Reading, Writing & Ranting