Synopsis: Dark forces are at work at the House of Night and fledgling vampyre Zoey Redbird's adventures at the school take a mysterious turn. Those who appear to be friends are turning out to be enemies. And oddly enough, sworn enemies are also turning into friends. So begins the gripping third installment of this "highly addictive series" (Romantic Times), in which Zoey's mettle will be tested like never before. Her best friend, Stevie Rae, is undead and struggling to maintain a grip on her humanity. Zoey doesn't have a clue how to help her, but she does know that anything she and Stevie Rae discover must be kept secret from everyone else at the House of Night, where trust has become a rare commodity. Speaking of rare: Zoey finds herself in the very unexpected and rare position of having three boyfriends. Mix a little bloodlust into the equation and the situation has the potential to spell social disaster. Just when it seems things couldn't get any tougher, vampyres start turning up dead. Really dead. It looks like the People of Faith, and Zoey's horrid step-father in particular, are tired of living side-by-side with vampyres. But, as Zoey and her friends so often find out, how things appear rarely reflects the truth…

Book Review: It's taken me a while to warm up to this series but I really loved the third book, perhaps it's because life makes Zoe grow up fast and you get a more mature yet still teenage look at her life. I've listened to all of the books on audio which I think is often better for some young adult books because sometimes the life of a teen can get a little uninteresting to the adult reader and when I listen to them I'm always doing other things at the same time. Make no mistake about it, this series was written for teens around the age of 16 but I think it is a series that will be enjoyed by many adult readers.

Things have changed drastically at the House of Night, the loving and nurturing have become the evil and frightening. Zoey can't tell anyone about the secrets she knows because the evil person can read minds, that is everyone except hers and Aphrodite's, Zoey's sworn enemy. Consequently in this book Zoey teams up with Aphrodite to try and save Stevie Rae. Zoey loses her virginity in this book to an unexpected source and is really betrayed by someone she loves.

Apart from Zoey's personal dramas there are some huge things happening and in their trademark style the authors leave you hanging at the end of the book. Which means I literally can't wait to read book #4 and have already loaded it onto my iPod. I hope that if nothing else this week I've convinced you to give this series a go. It is a slightly different vampire world to other books I've read and that contributes to making it fresh. Whilst it's an entirely different story I think the best way to describe Zoey is a teenage version of Sookie Stackhouse, except of course she's a vampire as well, if you read the books you'll know what I mean.
These is an excellent website for the House of Night series where you can listen to or read to the first few chapters. You can purchase the series at Book Depository (free postage) or Amazon.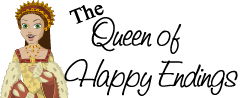 Visit Alaine at her blog The Queen of Happy Endings