Series:
House of Night #2


Genre
: YA Fantasy
Copyright:
2007
Book Blurb: All any of us could talk about was Chris's disappearance and how bizarre it was that he had last been seen so close to the House of Night. I didn't want to believe it. But everything inside me said that the kid would be found, but he'd be found dead... Things seem to be going pretty well for Zoey Redbird. She's settled in at the House of Night finishing school and is coming to terms with her incredible new powers. It all seems too good to be true. And guess what? Someone has begun murdering human teenagers, and all evidence points to the vampyres at Zoey's school. Which means her first assignment as the leader of the Dark Daughters is finding out which one of her classmates or - gulp - teachers is a killer. Sigh. And she thought her boyfriends (yes: plural) were going to be her biggest problem this year...
Book Review: It's very difficult to rate a book that is really not in a category that is not written for you as a reader. I often think how unfair it is that young adult books are constantly rated by adult readers when adults are not the target audience. However, with the amazingly high quality of young adult books out there and the fact that they are just such fun easy reads, who can resist. Also, adults are the buyers, either for themselves or their teens the majority of the time.

With that in mind we come to Betrayed. The ideas and the way in which the story is developed is excellent. But again, this is clearly a teen book with themes, settings and plots that would appeal to teenagers. This is a book I would highly recommend to teenagers who like vampires, romance and suspense. The highest recommendation I can give this book is that if it came out in an adult version I would snap it up. My daughter did tell me that if I liked this I would love J. R. Ward's series.

In this book the House of Night finds itself and the centre of murder investigations. Someone is murdering human boys and all clues point to vampires. This book also finds Zoe come into her own as she takes up her position as leader of the dark daughters and decides to take the group in a new direction. The book is filled with teenage angst and Zoe is torn between 3 different males to be her boyfriend. She continues to deepen her friendships and is establishing herself as a leader at the House of Night.
This is not the last book I will read in this series. If you have teens who like this kind of story then I'm sure they will love it. I'm going to try P.C. Cast Goddess series written for adults because I really like her style of writing. For more information about this series check out the
House of Night website
. The trailer below is for Untamed, the forth book in the series.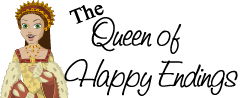 Visit Alaine at her blog The Queen of Happy Endings