Genre:
Historical Fiction
Copyright:
First published 1986, reprinted 2003
Pages:
674
Rating:

This is such a fantastic historical novel set in 1715-1720. Most of the historical fiction I read are about Royalty, this book is more along the lines of Elizabeth Chadwick in that it contains mentions of various Royal figures but they aren't a main part of the storyline.
The book is about a beautiful naive 15 year old girl who is used by her mother to get out of debt by selling her off to the highest bidder in marriage. Barbara Alderley loves and adores Roger Montgomery as only a 15 years old girl can, so when her mother sells her in marriage to Roger she is delighted despite her Grandmother's reservations because he is so much older than her.
After the marriage takes place Roger moves Barbara with him to France where he ultimately renews his affair with the King of France. Despite her extreme heartache Barbara never stops loving Roger. This is a dark and twisted novel, a close look at the ugly side of society that you won't be able to put down.
I absolutely loved this book and can't recommend it highly enough. Karleen Koen's writing just flows so beautifully! It is different from other historicals that I've read and I was completely caught up in the story.
The good news is that there is a sequel and a prequel to this book. When I looked up the book and discovered it was first printed in 1986 I was worried there would be nothing else from this author. However, I was in luck because the prequel to this book, Dark Angel was written in 2007. The sequel, Now Face to Face was first published in 1996. Karleen Koen has a beautiful
website
that you can read for information about these books including family trees and upcoming releases.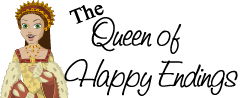 Visit Alaine at her blog The Queen of Happy Endings.