Rather than a tale of virtue and youth, this time Sarah Dunant brings us a journey of love and betrayal, prostitution and loyalty.

We meet our main characters, a courtesan called Fiammetta and her dwarf assistant Bucino in the height of their prowess in Rome. But alas, the city falls to invading forces and these two are barely able to escape with their lives. As we accompany them on their journey to Venice and watch as they are forced to start a new life, we are taken to a world the author has not shown us before.

I read Sarah Dunant's books in half reverse order, her tales of convents and virtuous women coming before this one. And perhaps that is why, as much as I did like this book, I did not fall in love with it as I did her others. The tale is told from the perspective of Bucino, and he is charming enough, but he is not a lovely young lady.

The book tells most of the story between their downfall in Rome through their fortunes in Venice. What I found myself really wanting was more of a history of Fiammetta, rather than the little bits of background we get through other means. Because I feel that Sarah Dunant is so good at telling these things from the beginning, I wanted to see the roots of a courtesan life. What is it like to be brought up by your own mother to service men until you are too old to continue doing so? Does the courtesan ever wish for a different life, try to find a way out?

Yet, because I have read so much about marriages during this time period, it was very interesting to read a story of the semi-alternative. All lives are run by men in this time period, but to an extent, the life of a courtesan seems a little more free. Fiammetta is able to run her household basically as she wishes, and it's refreshing to see that as much as she can, she makes her own fate.

I admire the author sticking to history as much as she can, and perhaps one of my favorite parts is her "Author's Note" at the end. It's a nice tie-in between real life and the fiction she has spun for us.

On the whole, it is a good book and one I'm glad to have in my collection, for I will undoubtedly read it again.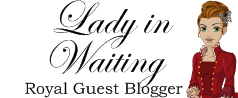 Thanks to Crystal from I Totally Paused for this wonderful guest blogger review!