Me: Hi Nikolas! How are you and Katy?
N: My lady love and I are doing very well, and we thank you for asking.

Me: How is it like, living near a cemetery? Isn't it... yknow, scary?
N: My tie to these grounds is strong. I've been a caretaker, of sorts, all my life, so, no, it's not scary.

Me: Snickerdoodles!
N: Ah yes, some of my favorites.

Me: How did you and Katy meet?
N: A very long time ago, but it feels like just yesterday.

Me: Tell us a favourite memory of you and Katy back then.
N: *chuckles* Although she wasn't very happy with me at the time, I'm fond of the moment she threw her dinner at me.

Me: Abbey comes here very often.
N: Yes, she is a very special girl, and I do believe our bond with her is very strong.

Me: Do you have any hobbies?
N: Wood carving and doing whatever makes my lady happy.

Me: We don't really know a lot about you. Tell us something about yourself.
N: I was once a soldier.

Me: Why did you decide to live in Sleepy Hollow?
N: To quote Mr. Irving himself, "If ever I should wish for a retreat whither I might steal from the world and its distractions, and dream quietly away the remnant of a troubled life, I know of none more promising than this little valley."

Me: How long have you lived there?
N: A very long time.

Me: Do you have any hidden talents? ;)
N: Yes, but I fear they must remain hidden. Just don't ask me to sing. I do not sing.

Me: I won't then. ;) Thank you for the interview! Would you like to say anything to the readers? N: You are quite welcome. I hope you enjoy the story, I feel it is a good one.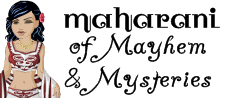 Visit Liyana at her blog
Liyanaland
.