Me: Hi there Ben! How're you doing?
B: Good. You?
Me: Great. Tell us more about yourself.
B: Um, I like chess and Star Trek, I guess I'm kind of a geek.
Me: Naww, geeks are chic now. How did you meet Kristen?
B: We went to school together.
Me: Do you have any favourite memories of her?
B: Yeah, there was this one time, during this debate, she was awesome. She was really good at that.
Me: How are you getting along with Abbey now?
B: Abbey's great. I really like spending time with her.
Me: How's school? Do you take part in any extracurricular activities or anything?
B: School is school. I probably like it more than I should. *laughs* I'm on the chess team.
Me: Living in a small town must be pretty stifling. What are your plans after high school?
B" I'm checking out a couple of great colleges. I'm really into science. So I wanna see who has the best program.
Me: Living in such an iconic place like Sleepy Hollow must be pretty cool, especially during Halloween. How is Halloween in Sleepy Hollow like?
B: Well, they decorate a lot and we get a whole bunch of tourists. But other than that, it's your typical small town.
Me: Some people think that you're a contender for Abbey's heart. Just kidding!
B: Nah, me and Abbey are just friends.
Me: Thank you for the interview. Would you like to say anything to the readers?
B: Thanks, see you.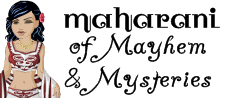 Visit Liyana at her blog
Liyanaland
.