Genre:
Historical Romance
Copyright:
2009
Pages:
425
Rating:




Book Blurb:
The Darcy Saga continues....

The tale of Mr. Fitzwilliam Darcy and Miss Elizabeth Bennet began in Jane Austen's classic novel Pride & Prejudice. Their love was granted new life and a chance to be shared in Two Shall Become One ~ Mr. and Mrs. Fitzwilliam Darcy.

Now the next steps of the journey can be delighted in as Journeys Beyond Pemberley resumes where the first volume ended. Darcy and Lizzy leave the comfortable confines of their honeymoon months at Pemberley for the broader world of London and other areas of England.

Adventures are experienced, friends and relatives interact, fun is the focus, and extraordinary English Regency Era sights will be explored. But anchoring and weaving within is the revealing of a love and marriage in its purest embodiment as the young lovers deepen their sacred bond.

Come now and join the Darcys on their quest to further meld as one soul amid the peaks and valleys of real life.

Review:
This book is being released on September 1, 2009 and I was fortunate enough to receive an ARC of it after I read and fell in love with Mr & Mrs Fitzwilliam Darcy: Two Shall Become One. If you are like me and love Pride and Prejudice sequels then this series should be on the top of your list - trust me!
In this book we see the couple experience many of the milestones of early marriage, including the joy of expecting their first child and Lizzy's birthday. But although Lizzy has adjusted well to her new role as Mistress of Pemberley, there are still plenty of complications. When the Darcys move to London, Lizzy must start again and in earning the respect of the staff in London, she finds an inner strength that she hasn't had before. Here are two of my favourite quotes:
Lizzy:
Inwardly, she recognized a happiness and contentment that anchored her soul.
Lizzie:
"What a gift you are in my life! I hope you understand that as much as I yearn for you physically, and I do every moment of every day, it is your heart and soul that have captured me. If we could no longer make love for some reason I would ache for you, but I would still love you as profoundly because you live inside my very essence." She cupped his face fiercely. "Do you know this, my husband?"

Such is the depth of Lizzy's happiness - I couldn't help but sigh when I read those words! This story also includes more of the Bingley's which I loved, especially some of the realisations Carolyn Bingley comes to, that was wickedly enjoyable. But the Darcy's also encourage the Bingley's in a way that enhances their own marriage. You'll enjoy appearances from many of the characters you loved (and loved to hate) from the original novel.
Since I was a little girl I wanted a love like the Darcy's! When you find it, you know that you have been blessed by the angels and you hang onto it with everything you have. I've always thought about the great love stories like Marc Anthony and Cleopatra, King Edward and Mrs Simpson (he gave up his crown for her love) and Darcy and Elizabeth. I am a romantic, it's no secret, I love romance stories and romance movies are my favourites, I am also lucky enough to have a great love in my life. This story touches a part of me, deep down in my soul, it captures the essence of romantic and eternal love and I think anyone who reads it will feel richly blessed by the story.
At the end of this review, I know, I haven't told you much about the story, that's because it's the second book and I don't want to give away spoilers. But I hope what I have done is convince you to read this series.
Recently publishers have said that the sales in the romance genre have increased and it is generally believed that it is because of the Global Financial Recession. People need to feel good, if you need a little romance or need some hope that true love it out there, then read this series. If you want to fall in love with Mr Darcy all over again then go and pre-order yourself a copy. Order your copy of both these books at
Book Depository (free postage)
or
Amazon
.
Here's a little about Book 3, The Darcys at Year's End
Married life is bringing out the best in the Darcys. Their mutual attentiveness brings readers into a magical world of love and wedded bliss.

Elizabeth is growing into her role as Mistress of Pemberley, and Darcy has mellowed under her gentle teasing and light-heartedness. Pemberley becomes a true home and a welcoming environment for loving family and friends. The Darcys travel to the seaside, welcome their firstborn, celebrate their anniversary and second Christmas, and at every moment embrace the love gifted to them.

"I love you, my Elizabeth. You are my soul, my blood and bone, my very life."

You can pre-order the third book in the series, The Darcys at Year's End at Amazon with it due out in December.

Royal Reviews would like to thank the lovely Sharon Lathan for spending a fun week with us as we've learned more about her 'Mr Darcy' and the wonderful books she's written. My review of Loving Mr Darcy is of an ARC I received thanks to Danielle at Sourcebooks. Thanks also to Danielle for giving us 2 sets of Sharon's books to give away.


Giveaway Alert!
If you'd like to win the second set of Sharon's books that we have to give away tell me who your favourite romantic couple is. They can be from a book or movie, they can be real or fictional. We'll tell you who the winners are for all this weeks comps are in our Sunday post.

Tomorrow for the last post in our 'Mr Darcy Week' is a review of Seducing Mr Darcy by Gwyn Cready. If you enjoyed the TV mini series Lost in Austen then you'll love this book.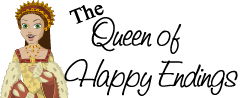 Visit Alaine at her blog Queen of Happy Endings.