Series:
1st Book of The Masters Of Time Series
Genre:
Paranormal Romance
Copyright:
2007
Pages:
384
Heat Rating:
Hot

Rating
:

BOOK DESCRIPTION:
Highland warriors sworn to protect Innocence through the ages…. Malcolm of Dunroch has been chosen by the secret Brotherhood, a nameless society of pagan knights sworn to defend mankind. He is a novice to his extraordinary—and dangerous--powers. But he has already broken his vows--for an innocent woman's death is on his hands. Malcolm is determined to fight his dark sexuality, denying himself all pleasure…until fate sends him another Innocent, the beautiful bookseller, Claire Camden.

Desire is the first weapon...

Since her mother's murder, Claire has done everything possible to make a safe, secure life for herself in a city where danger lurks on every street corner, especially in the dark of the night. But nothing can prepare her for the powerful and sexual medieval warrior who sweeps her back into his time—a treacherous, frightening world where the hunters and the hunted are one and the same. Claire needs Malcolm to survive, yet she must somehow keep the dangerously powerful Master at arm's length. For she has no wish to die in his bed like the others—in the throes of dark, forbidden pleasure…
My Review:

I started The Masters Of Time series by New York Times Bestselling author Brenda Joyce with a bit of trepidation. In fact, I bought DARK SEDUCTION the very day it came out but placed it on my TBR pile the moment I arrived home. A month later I was riffling through the pile looking for something to read. CLUNK! DARK SEDUCTION literally fell at my feet.

Well, readers if you don't know by now I am Christine-Queen of Second Chances and I've been given the honor of TIME TRAVEL WEEK here at Royal Reviews. And I couldn't pass up this opportunity to share one of my favorite series which takes us from present day Manhattan-to 15th century Highlands of Scotland—back to present day and then back to Scotland. I know what your think. This series must be one heck of a mind trip? And I would say, "Reader, hold onto your shorts because you haven't seen anything yet. So shall we begin? Would you like to travel through time to 15th century and back to present day America with me? Then we are on our way

DARK SEDUCTION starts with us meeting a beautiful antique book dealer in America named, Clare Camden. She's led a pretty sheltered after her mother was murdered in front of her when she was very young. Lately, Clare has suffered another loss and she thinks a trip to the Scottish Isle will help this ace inside.

What she doesn't expect is a fifteenth century Highland Warrior crashing into her store. He says his name is Malcolm of Dunroch and he has traveled through time to rescue a ancient book called The Cathach that was stolen from the Isle of Iona.

Okay, Clare has heard some crazy things and she figures that this is another practical joke her cousin Amy is playing on her. Completely at her wits end after dealing with so psycho-bitch from hell and now this derange—but devastatingly sensual and hot actor is standing in her shop pretending to be a highlander. Her day could be worse. She could be force to return to the fifteenth century, chase down a demon lord who use sex to enslave his minions oh and help Malcolm find his soul. It's just all in a days work for gal –Clare-Camden-Friday. Or is it?

Dark Seduction is a sensual page turner from the moment you open the book to it's bitter end. I say bitter because I was already panting for DARK RIVAL but had to sit on my greedy hands for six months before it was released. This is Ms. Joyce's first foray into the paranormal genres and I say with her very first supernatural seductive romance was hit way out of the park. She was able to write sexier, more powerful heroes—and to dabble in her favorite time period of the Middle Ages. She chose a contemporary heroine because she could think of nothing better than being swept off her feet by a medieval hunk.

Her flesh and blood three dimensional characters made a believer out of this wannabe time traveler in the making. The emotional aspect was riveting and raw and led the story through an emotionally charged read.

Okay it might have taken me a month to see what the fates had in store for me, but as I say better late then never. Make sure to stay tuned for my next review this week about the Black Royce in DARK RIVAL.

HAPPY READING!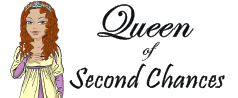 Visit Christine at her blog
Romantic Crush Junkies