Heat Rating: Scorcher

Rating:




BOOK DESCRIPTION: Highland warriors sworn to protect Innocence through the ages…. A golden man, he is called Black Royce—a battle hardened soldier of the gods. His vows are his life—until he is sent to New York City to protect a Healer from those who would use her powers for themselves. The moment Royce sees beautiful, feisty Allie Monroe, he knows she will be his only weakness—and he is right.

Destiny is a dangerous thing

Allie Monroe is more than an heiress. She is a Healer, willing to do anything to save victims of the evil that lurks in the city at night. But alone, she can do only so much—until destiny sends her the darkest Highlander of them all. Then evil strikes and Royce is destroyed before Allie's eyes. Now Allie will do anything to save Royce—even if it means going back in time to a dark, dangerous world to be with him. And confronting their enemies could cost not only their lives, but also their love—for all eternity.

My Review

DARK RIVAL is the second installment in New York Times Bestselling author Brenda Joyce's The Masters Of Time Series. Okay after reading DARK SEDUCTION I was raring and ready for the release of Black Royce and Allie's story. I knew that the story of protecting the innocent and traveling back to the fifteenth century could only get better.

What can I say? When I'm right I am so right. DARK RIVAL actually is a strong contender for the BROTY( Best Reads Of The Year) in my humble—but devoted opinion.

The story takes right off where Ms. Joyce left us in DARK SEDUCTION with Royce coming to the future to protect Allie from being murdered by deranged demons sent to destroy her line of healers. In one swift moment Royce takes down two demon warriors and whisk Allie back to his castle in Scotland.

Phew what a trip. One moment she's in the Hampton's fighting for her life and then the next she is ripped through time to the highlands of Scotland. To her amazement she's still in her time but shocked when she sees a five hundred and something year old Royce walking in and kissing her like there's no tomorrow. I'm not complaining. With Royce's dark brooding good looks I'd give into that highlander anytime( I digress--but in such a yummy way ;-)). Allie is a bit confused about what's going on but knowing that the man in front of her is the devastatingly-drop-dead gorgeous highlander that saved her the night before Allie's pretty sure she"ll accept his explanation. Standing up or lying down Allie could careless as long as he makes it worth the wait. For she fears she's already lost her heart to him one time. She just not sure in which century she gave the lug her heart and soul.

Ms. Joyce has done it again readers. Her three dimensional characters just kept leaping off the page and ripping me to shreds with their emotional scarred and tortured souls that I was loath to enter the realm of reality. Both Allie and Royce have faced severe trauma in their lives. And trusting in one another is hard enough when both want to shut the other out. But there is a greater evil afoot and the Masters Of Time are fighting against time, through time and the spawn of Stan it'self.

I will admit that out of all the books in The Masters Of Time series(so far there are five: Dark Seduction, Dark Rival, Dark Embrace, Dark Victory and her recent release Dark Lover) DARK RIVAL is my favorite. It is all Royce and Allies fault because from the moment I met Black Royce in Dark Seduction I was rooting for him to find his true soul mate. I knew that the woman had to be kick-ass stubborn and would kill anyone that would hurt people that she loved. But she also had to be compassionate, loving, kind and all around sweet heart of a girl. At first Allie comes across as a poor-little-rich girl who lost her mom at an early age and feels slighted by her father. But as the story progresses we see the uniqueness of Allie and how strong in being and emotionally she is. For me, Allie really sold the story. Her undying love for Royce and for the belief IN their future held a strong essence that pulled me to read DARK RIVAL in two days.
**

Don't miss out on my final and third installment of The Masters Of Times series by NYT Bestselling author, Brenda Joyce's Dark Embrace. It also is the first book in Ms. Joyce's The Rose Trilogy featuriong Brie Rose and Aidan, the Wolfe of Awe who has abandoned the Brotherhood and forsakens his vows since the day his young son Ian was kidnapped from him by his evil-in-carnate demon father Moray.

Come and discover the love that spands through time as Brie is brought back to the fifteenth century to save the only man that could awaken her passions and fill her soul with undying love.

HAPPY READING!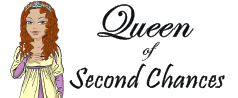 Visit Christine at her blog Romantic Crush Junkies