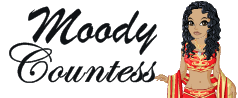 I love to read a lot of genres but mysteries, romantic suspense are my faves. I do tend to read Nancy Drew & Anne of Green Gables for comfort reads.

I love way too many authors to fall into the trap of picking one or a dozen ;p & my favorite writers are ones who can write books that keep me coming back year after year hardcover pre orders the minute the book is available for pre orders.


As a preteen/teen I gorged on romances from Silhouette to Harlequin, but I was definitely a Silhouette romance fanatic! I discovered the only reason I'd ever go to garage/tag/yard sales was to look for books -- more bang for my buck. lol. @ the age of 13-14 I stumbled across a treasure trove of romances @ the local flea market -- I was ticked I was being forced to go on this humiliating "outing" & remained in my grampa's station wagon reading w/ the sun blazing on the roof & my skin sticking to the seat. Not happy @ all -- pouting was involved. lol. My grampa came out to tell me there were books on sale. Well, that's what I'm talkin' about! Let's go...

I discovered one of my all time favorite series lines -- Second Chance @ Love. I discovered one of my all time favorite books Destiny's Spell -- Berkley Second Chance At Love # 19 Destiny's Spell by Susanna Collins .

I was so impressed w/ the book & fell " in love" w/ the book, I sent Susanna a letter. She responded in less than 2 weeks & sent me the most amazing letter & enclosed an autographed copy of the very first *giddy* 2nd Chance @ Love -- the debut for the series # 1 - Flamenco Nights - Susanna Collins, June 1981. I was only 4 when the book was released & 9-10 years later I "discovered" the series. Small world.

After realizing there was no prince showing up on a white charger I
ventured out & discovered mysteries. Young Adult books lets me reconnect w/ that part of me that missed out. Romantic Suspense fits the bill perfectly because it combines hearts & daggers instead of hearts & flowers w/ a dose of poison. lol. When I need a romantic suspense to comfort me -- Wendy Corsi Staub does the trick & Bone Cold by Erica Spindler was fabulous! My 1st Spindler & I haven't looked back. Mary Jane Clark has a nice balance of romance & mayhem, so I am not disappointed! My all time favorite is Mary Higgins Clark but Mary Jane is nipping @ the'ole Queens pumps. lol. For lol mystery Laura Levine is my girl! For a modern day Agatha, I call Carolyn Hart my gal! Julie Garwood's Slowburn still takes my breath away... ok, I think I better zip it now. For YA... Lisa McMann & Kelley Armstrong most definitely. When I am feelin' diva~esque... Jennifer Banash does it for moi! Hmmm.. wonder if she'll create a diva vixen character just for me. Hey, ya never know!

One other book that has remained etched in my heart is Lavyrle Spencer's Separate Beds.

Review of The Elite by Jennifer Banash



Genre: Young Adult

Pages: 259

Copyright: 2008

Rating:





From the top, you can see everything . . . except yourself.

When Casey McCloy steps into the elegant Bramford building, she's overwhelmed. Fresh from the Midwest, she's moved to New York's Upper East Side to live with her grandmother and attend the prestigious Meadowlark Academy. Here all that matters is who you know. The girl to know is Madison Macallister: popular, pretty, platinum blond. She's not just Casey's new classmate and neighbor; she's an icon. So Casey aims to get in with Madison and her gorgeous gal-pals from the start. As the reigning queen of coolness, Madison is capable of destroying reputations with one well timed whisper. Better to be on her good side.But after a city-haute makeover from her new frenemy Madison, Casey is wearing the right clothes, saying the right things, and meeting the right people-including Drew, the boy-about-town who Madison thinks belongs to her and her alone.

Hmmm... Another series about a Midwestern beauty moving to NYC. Another series featuring more rich, beautiful, bratty teens.

Excuse me, haven't we done this before? Yes! Unfortunately, many times over! Excessively!

Enter Jennifer Banash. JB has skills. Ms. Banash extinguishes the competition w/ her Manolo's then struts down to Bergdorf's to pick up a pair of Corset Bootie 's (Dior), a Stella McCartney Piercing Tote & a Kooba Blake Leather Shoulder Bag (love)! Banash is clearly a rock star & the others pale in comparison screeching karaoke.

Like movie theater popcorn w/ extra butta, a foot massage, a sundae w/ caramel, marshmallow & cherries ;P; a shopping spree @ Christian Louboutin, Victoria Secret & Sephora. Jennifer Banash has a sure fire hit w/ her fabulous Elite series.

Banash's characters are authentic, unique & interesting. Every player has a tale to tell & it is not just filler... it's substance. Banash was brilliant crafting the chapters in alternating points of view. It brings all the characters front & center. No kibbles & bits for the secondary characters...

Banash illuminates every cast member w/ a glow of their own. The Elite isn't just about "poor" Casey & snotty Madison doesn't overshadow the novel w/ her grandstanding & diva tantrums...

Jennifer deftly displays every character's voice & allows them to be genuine characters not high society caricatures! Applause!

Sophie & Phoebe aren't Madison's accessories they are three dimensional young adults w/ intriguing lives w/ secrets to confront, endure & disclose.

Now, I'm not going to leave out the tidbit that the begining of The Elite was a bit slow going but once Banash sets the members up...away we go!

Some may grouse @ the designer brands dripping off the pages, but it is a way of life in the world of big bucks! Eventually, Banash eases up on the labels & gives us the true grit.

Drama, check! Scandal, of course! Fashionista's, come hither... The Elite is a must to toss into your tote!

Kudos to Banash, she didn't wave a La Perla garment & make Casey uber pop. Nah, just wouldn't be believable. Double kudos to Banash for the way she piloted Drew ~ spot on!

Jennifer's characters are extremely well developed. Madison is one of the nastiest something ~ somethings, but Banash writes w/ such emotion, you can't help but feel empathy for the bratty prima donna!

Madison tells it like it is & remains true to form. Casey seems to lose herself once stepping foot in NYC. She is too easily manipulated & I wondered @ times if she left her smarts back home.

Grrr.... I hate when a intelligent female loses sight of herself for a guy or a clique. Weak! Casey needs to toughen up if she's going to make it in the big A. Casey has the backbone to make it... she is just finding her way in Gotham city.

Banash has a hit on her hands & a mean pair of stilettos on her feet!

Check out Jennifer @ www.theelitebooks.com or on MySpace.