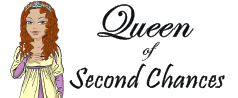 Hello Royal Review Readers,
I am so excited to be a part of the Royal Review family and can't wait to get to meet and know all of you. My name is Christine and I am the author of Romantic Crush Junkies and Erotic Book Junkies review blogs. I'm what you would call a NEWBIE on the blog block. I've only been around the block for around two months. And phew—let me tell you I am having the time of my life.
Over at Romantic Crush Junkies I feature every type of romance genre. It's very hard for me to lay claim to one specific romance genres. I'm what you call a fly by the seat of your pants reader. If I like the blurb on the back and the first page of the book I'll buy it. I'm an avid eBook supporter and adore a great plethora of eAuthors. But for me, I think the more interesting stories are ones where characters are given a second chance to redeem their selves. Hence my Royal Review name—Christine-Queen of Second Chances.
I review because it combines two of my obsessions—reading and writing. If I'm not reading I'm writing and visa versa. I've been this way since I popped out from the womb with a pen and paper in my hands. Along with writing reviews I'm also enrolled in the Breaking Into Print course through Long Ridge Writers Group.
When I'm not writing I am actively a taxi driver, money lender, chef extraordinaire and domestic goddess for my four beautiful rambunctious teenage girls.
So this is me in a nut shell but not a nut. I am really looking forward to this grand and great adventure here at royal reviews.
Review of Burning Wild by Christine Feehan



Genre:
Paranormal Romance
Pages:
443
Copyright:
2009


Bred by capricious parents for his innate leopard-shifting abilities, billionaire Jake Bannaconni has spent his life in an emotional vacuum--especially after a tragic twist of fate left him to raise his infant son alone. But when his path crosses that of an enigmatic young woman, Jake's life takes a detour he never fathomed.

There is something irresistible about Emma Reynolds--something,Jake can't live without. Hiring her as his son's nanny will keep her close. And warm. And under watch. She's the first human to stir something inside of Jake, something that he's never felt before. But Emma may not be at all what she seems. And what's raging between them is pure animal instinct--out of control, burning wild and as hot as the lick of a flame.

Jake Bannaconni was made for a specific reason. When his parents discovered he was nothing more than a "rat" and not their perfect mutated shifter they abused him like no tomorrow. For years Jake planned his revenge with a single mindedness that won him the reputation of being cold, calculating and cunning.

Along the way Jake has made some brutal "enemies" when he finds himself a single father. Having barricaded his heart from feeling anything Jake hasn't a clue how to raise a young son, let alone love him. The one sure thing he knows is that he can't let the baby fall in "enemy" hands. Jake lives with the pain of the abuse and is desperate--no matter the cost to keep his son safe. But to do that he must convince the irresistible Emma Reynolds to take the position of nanny. Jake Bannoconni is used to people falling at his feet to do his bidding, so getting Emma to comply should be a no brainer. And with a little persuasion he'll be able to trap Emma into seeing things his way.

In a blink of an eye Emma Reynolds world changed. She went from happy newlywed to loosing everything. Widowed and three months pregnant she feels lost when Jake offers her a place in his life raising his child and running his home. For Emma it's a break from the pain and a chance to move forward. For Jake it's a way of keeping her close until he can finally make her his own.

But enemies are around every corner and no matter how Jake tries to control their lives the enemy isn't far behind. Can Jake and Emma finally come to terms with the beast living inside of them long enough to see the other for who they truly are? In the end uniting as one to squash their collected predators is paramount if they are to save the family they both so desperately hungered for.

#1 New York Times Bestselling author, Christine Feehan's latest release "Burning Wild"

Burning Wild was an extraordinary read. I've been a huge Christine Feehan fan from the start with her "Dark" series and sophomore into the "Drake Sister" series and "Ghost Walkers" series. Burning Wild is the third installment of the Leopard series. And I can tell you that Ms. Feehan didn't disappoint. When I picked up the book I honestly didn't know what to expect, since I haven't read the first two(but have them in my never ending Mt Everest of books) I found the characters exciting, invigorating and completely erotic. From the word go it was high octane at full throttle. Even though the story line of child abuse is a sensitive one, Ms. Feehan showed courage and compassion while developing her plot. The characters where extremely tangible that I felt I was in the thick with Emma and Jake.

The only problem I have is, which one to read next,"The Awakening" or "Wild Rain". An ending note, "Burning Wild" is a must in your nightly reading pile.

Happy Reading!