Genre
: Urban Fantasy
Copyright
: 2007
Pages
: 496 or 11 hour audio book
Series
: Georgina Kincaid #1

Rating
: 4.5 Crowns
Synopsis
:
Succubus (n.) An alluring, shape-shifting demon who seduces and pleasures mortal men. Pathetic (adj.) A succubus with great shoes and no social life. See: Georgina Kincaid.

When it comes to jobs in hell, being a succubus seems pretty glamorous. A girl can be anything she wants, the wardrobe is killer, and mortal men will do anything just for a touch. Granted, they often pay with their souls, but why get technical?

But Seattle succubus Georgina Kincaid's life is far less exotic. Her boss is a middle-management demon with a thing for John Cusack movies. Her immortal best friends haven't stopped teasing her about the time she shape-shifted into the Demon Goddess getup complete with whip and wings. And she can't have a decent date without sucking away part of the guy's life. At least there's her day job at a local bookstore--free books; all the white chocolate mochas she can drink; and easy access to bestselling, sexy writer, Seth Mortensen, aka He Whom She Would Give Anything to Touch but Can't.

But dreaming about Seth will have to wait. Something wicked is at work in Seattle's demon underground. And for once, all of her hot charms and drop-dead one-liners won't help because Georgina's about to discover there are some creatures out there that both heaven and hell want to deny...
Review
: I started to read this a while ago when I got the book from the library but ran out of time and had to take it back. Then I got it on audio to listen to and I loved listening to the Vampire Academy series so I thought this might be a good one to listen to as well. I've been wanting to read a Succubus book for a long time, because I just couldn't quite grasp the concept and was curious about them.
It's easy to feel empathy for Georgina, she'd been in love once and felt what it was like to love someone without sucking the life out of them. For those of you who don't know what a Succubus is, they are like Vampires, however, Vampires need blood to survive but Succubus need the life force of men and this can only be sought by having sex with them. Hence the reason it's such a lonely life, they don't age, can't have a meaningful relationship because that would kill their mate. I really like the Georgina's character, she is kick-arse but yet also has this soft side that would love to be in 'love'. The also reads her favourite authors novel 5 pages a night so that she can drag out the pleasure for as long as possible (I loved that about her).
This is an excellent first book in the series that I thoroughly enjoyed and think I will go straight on to the next book. It's not like anything I've ever read before and I do like the fantasy and romance combination, although it's not anything like a traditional romance. Of course every good urban fantasy has a kick-arse heroine and Georgina Kincaid is certainly that.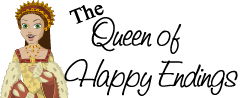 Visit Alaine at her blog
The Queen of Happy Endings