Genre:
Historical-Regency

Copyright: 2007

Pages: 375

Rating: 4 Crowns

Synopsis: An expert in etiquette, Emma takes her pristine reputation most seriously. But the devilish Lord Marlowe is determined to prove that some rules of proper behavior are made to be broken...

Supremely sensible Emmaline Dove wishes to share her etiquette expertise with London's readers, and as secretary to Viscount Marlowe, Emma knows she's in the perfect position to make her dream come true. Marlowe might be a rake with a preference for can-can dancers and an aversion to matrimony, but he is also the city's leading publisher, and Emma is convinced he's her best chance to see her work in print...until she discovers the lying scoundrel has been rejecting her manuscripts without ever reading a single page!

As a publisher, Harry finds reading etiquette books akin to slow, painful torture. Besides, he can't believe his proper secretary has the passion to write anything worth reading. Then she has the nerve to call him a liar, and even resigns without notice, leaving his business in an uproar and his honor in question! Harry decides it's time to teach Miss Dove a few things that aren't proper. But when he kisses her, he discovers that his former secretary has more passion and fire than he'd ever imagined, for one luscious taste of her lips only leaves him hungry for more...


Review:

I spent two months searching for this book, and then it spent 8 months on the shelf.
Stupid me.
And Then He Kissed Her is a wonderfully well-written historical romance. Emma Dove is the extremely prim and proper spinster past her spring who works for a rake and has hopes of publishing her own etiquette books. Viscount Marlowe is said rake, successful publisher and someone who needs his secretary to tell him where to be when and buy gifts for the ladies breezing through his door.
Until Emma realises that Marlowe will never publish her books, and decides to make some life changing decisions- like resigning without notice. In trying to get his secretary back Marlowe suddenly realises there's a lot more to her than a staid prim secretary he thought he knew, and he likes what he's now seeing a whole lot.
There's no chemistry at all between these 2 at the beginning of the book. They're strictly employer and employee, and intend to keep it that way. Which makes the sweet interactions between them later in the book a joy to read. The romance is sweet and hot at the same time. No smut here though. Guhrke really know how to write her stuff. That scene at the chocolate store and in the parlor where Marlowe tries to seduce the virgin Emma are some of the amazingly hot scenes that'll stay with you. Phew!!
The characters in the book are very well written. Marlowe as the sexy alpha hero has to be one of the sweetest rakes out there. This book was really about Emma though. No TSTL heroine, she knew she was good at her stuff and stuck to her guns to get what she wanted. I loved watching her battle her need to conform to society and rules against a will to live a full life of happiness. This book was a refreshing read in its plot and characters. I'm definitely picking up more Guhrke books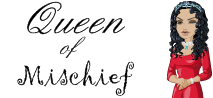 Visit Karyn at her blog Slip Carefully