Title: SALEM FALLS: A Novel
Author: Jodi Picoult
Publisher: Pocket Books (G.P. Putnam's Sons) 2001; paperback by Washington Square Press, 2002.
Genre: Fiction
Rating: 4 1/2 Crowns


Book Description:
Jack St. Bride was once a beloved teacher and soccer coach at a girls' prep school - until a student's crush sparked a powder keg of accusation and robbed him of his career and reputation. Now, after a devastatingly public ordeal that left him with an eight-month jail sentence and no job, Jack resolves to pick up the pieces of his life. He takes a job washing dishes at Addie Peabody's diner and slowly starts to form a relationship with her in the quiet New England village of Salem Falls. But just when Jack thinks he has outrun his past, a quartet of teenage girls with a secret turn his world upside down once again, triggering a modern-day witch hunt in a town haunted by its own history…

Read excerpt!

REVIEW:
New York Times Bestselling author, Jodi Picoult's SALEM FALLS was the very first book that cinched it for me as a life long fan of hers. I have to admit I wasn't really sure what I was in for when I read the back cover. All I knew is that I was intrigued by Jack St Bride's story and how he would deal with the upcoming struggles. True to Ms. Picoult's writing form she grips you from the moment you read the book.

If any readers has been lucky enough to read the Arthur Miller's play THE CRUCIBLE or is familiar with the SALEM WITCH TRIALS of 1962 will be pleasantly surprised and thrilled to read--not an abdatation--but truly a wok of art. Ms. Picoult wondered what it would be like to take one man and place him in a modern day "witch-trial".

Jack arrives in Salem Falls with only one thing on his mind. To start over. Jack had a plan to keep his head down and stay out of everyone's way. He knew that if people got a whiff of his criminal past he would be run out of town--or worse.

Noticing the sign in Addie Peabody's window for a dishwasher he walks in takes the job and the apartment above it. So far Jack is staying true to his internal promises. Keeping his head down and staying out of the way. Quiet and stoic he does his day to day job paying no one any mind--except his very sweet and generous boss who has secrets of her very own. They soon embark on a friendship that neither can help or deny. For so long both have been alone in their suffering. No Jack and Addie have a chance at something special that truly neither one expected to come along.

But still, demons chase Jack and he keeps recalling the last time he let his guard down and came to the rescue of a young woman. He wound-up spending eight torturous months in prison for a crime he neither committed but has to live with the rest of his life with a stigma on his name.

Tie in a group of teenage girls that are doing some rather naughty thins that they don't want their parents to know about and one said girl with a die-hard crush on Jack and you have the making of an extremely vilotale and tense prose on your hands.

I really loved this book. I admit that I read the play THE CRUCIBLE by Arthor Miller until after I read SALEM FALLS. The thing that drew me was the modern day witch-hunt. I'm a sucker for an underdog story and Jack St. Bride couldn't be anymore down on his luck then being accused of a crime he didn't and had never committed. along, with having a the whole town of SALEM FALLS reject you for your past.

If you have read any of Ms. Picoult's storys then you are familiar with her hard-hitting and generosity when it come to dealing with contemporary topics. Her characters are as genuine and thought provoking as the writer who always seems to leave her readers wondering how she writes so profoundly.

Not only did she write an enthusiastic story with real-to-life dramas that any reader could feel part of. But it is her distinct way of grabbing a readers attention by being not only though provoking but emotionally aware of her readers.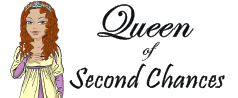 Visit Christine at her blog
Romantic Crush Junkies
or
Over the Edge