Genre:
Historical Fiction
Pages: 260
Copyright: 2009
Rating: 4/5 Crowns

Synopsis: Between forbidden passion and the second bloodiest conflict in history, Robert Hart experiences a crucible of pain that molds him into a great man in this turn-of-the-century historical romance.

Review: What is a concubine? Concubines are women who cohabit with men but are not married to them. In ancient China it was common for successful men to have several concubines – the Chinese Emperors often kept thousands. Concubines' situation ranged from pseudo-wives to poorly treated prostitutes. In this book, Robert Hart reveals the information about his concubine, Ayaou, to the Empress before he leaves China and heads back to die surrounded by his family.

Once again, I have found that historical fiction draws me in. I have to admit that I have never heard of Sir Robert Hart, but I have actually googled him to find out even more after reading this book. After reading the first few pages, the description made it easy to visualize the scenes the author was depicting in this story.

I have always had a fascination for the Chinese culture, and this book only piqued it more. Robert Hart leaves Ireland for a new beginning - he needs an escape from the disgrace that he has bestowed upon his family. He is thrust into a culture that he only slightly understands, but he vows that he will be a new man...an honorable man. Then he meets Ayaou.

Robert feels more for Ayaou than he has ever felt for any woman before. He is willing to do absolutely ANYTHING to be able to keep her company, and when he finds out that her father is selling her he decides that he must have her. But sadly, it is not to be. Instead, he ends up buying her younger sister - and at 14 she is quite young to be owned by a man not of Chinese culture. This fact may be disturbing to some readers, but this is a fact based novel, and it is tastefully written. I for one was fascinated.

I found it hard to believe that this was the first book by this author. It was evident that there was much research and hard work put into it. I look forward to reading his next book.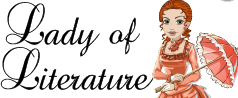 Visit Tracee @
Review from Here