Genre: Young Adult Fantasy
Pages: 208
Copyright: 2008
Rating: 3/5 Crowns
Synopsis:
Fantasy meets medieval magic in Grayrider. This novel spans the gamut—think Tolkienesque with a suspense-filled punch of chivalry! This is story-telling at its best where kings, sorceresses, and memorable heroes create an impression that you'll remember long after you've finished reading. Step into the land of Boadhagh, where an exiled king, Gabriel brings word to King Airell of an impending attack from the Ansgarian army—the same army that murdered his family. King Airell has no men to stave off the attack, so Gabriel takes matters into his own hands. The beautiful sorceress and daughter of King Airell, Deidre, learns that her mentor created the violent Ansgarians and leaves her kingdom to warn her father. They join forces to defeat their mutual foe—and as they fight together, Gabriel and Deidre fall in love. Tragedy, love, revenge, defeat, and grief are played out with insightful precision through Skye's characters. The story builds to a crescendo and the ending's dramatic climax will stay in your memory long after the final page is turned.
Review:
This is a story set in medieval times about a young prince named Gabriel. Years ago, his parents were killed in the castle that they lived in, in the country of Boadhagh. They were poisoned along with some of their friends while eating their evening meal. Gabriel remembers the sword "Deathsong" and retrieves it from his father's chambers. Deathsong has magical powers and he heads downstairs with it to the dining room while the enemies are still there. What ensues is a killing spree and those who he doesn't kill with the sword he makes eat the food that killed his parents.
Now it was time for more revenge. He grabbed his gray cloak, Deathsong, and his horse Windfire and headed to see King Airell, his father's friend. There he finds out that the citizens of
Ansgar
are fighting their way through the countryside to take over this King's country. Gabriel, now called Grayrider, becomes the King's number one warrior. Along with the King's daughter, Deirdre, they try to stop the armies that keep approaching. Deirdre is a sorceress with intense magical power and the enemy they are fighting is led by the
Morrigan
, the woman who took Deirdre under her wing as her apprentice.
This is a very intense novel full of fantasy and magic. There is also love, loyalty, betrayal, and redemption sprinkled throughout this book. The end is equally non-predictable and sobering. There were some minor issues in the flow of the plot but if you like this genre of books it will be easy to overlook them.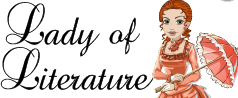 Visit Tracee @
Review from Here