Genre:
Paranormal Romance
Series:
Elemental Witches Book 1
Copyright:
2007
Pages:
278
Rating:
4 Crowns
Book Description:
After a chaotic marriage and a rough divorce, all Mira Hoskins wants is stability and normality. But when sexy Jack McAllister enters her life, she discovers that what you want isn't always what you need.
Jack is a powerful witch with the ability to command fire and is anything but normal. As the head of a security detail for The Coven, a national organization that governs national witches, Jack has been assigned to watch over Mira. She is a natural born witch with the ability to call the air. And although she is unaware of her talent, a group of renegade witches has discovered her existence and are determined to steal her power--and her life
.
Review:

Witch Fire is one passionate read; hot, scorching hot, third degree burns HOT. Is it possible to have too much of a good thing ... hmm, ask me after I've had a cold shower. The elemental magick theme and good vs evil storyline was really enjoyable but I would have liked to see a bit more plot development to balance out the sex, sex, sex.
The system of magick in Witch Fire is fascinating, each witch whether Coven (good) or Duskoff (evil) has an affinity with an element; air, fire, earth or water and their power is harnessed from that element. In order to protect Mira from the Duskoff Cabal, Jack, a powerful fire witch must train Mira to recognise and draw on her powers as an air witch. When things heat up, demon summoning, secrets and witchcraft politics get added to the mix of sex and magic ... and did I mention sex.
Mira and Jack's relationship is intense, plenty of sexual tension but not a lot happens in the first half of the book that isn't horizontal. The sex scenes are very well writtten, which is just as well since there are many, but don't worry, nothing tacky or cliched here. Just your everyday 'inferno' ... we all know that air fans and 'excites' fire *grin.*
Try Witch Fire if you like a fun, sexy read, sure to raise your temperature.
Remaining books in the Elemental Witches quartet:
Witch Blood
Witch Heart
Witch Fury
Visit Anya Bast's
website
for news, blog, contests and free e-books.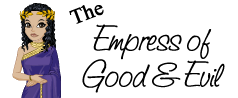 Visit Teddyree at her blog The Eclectic Reader